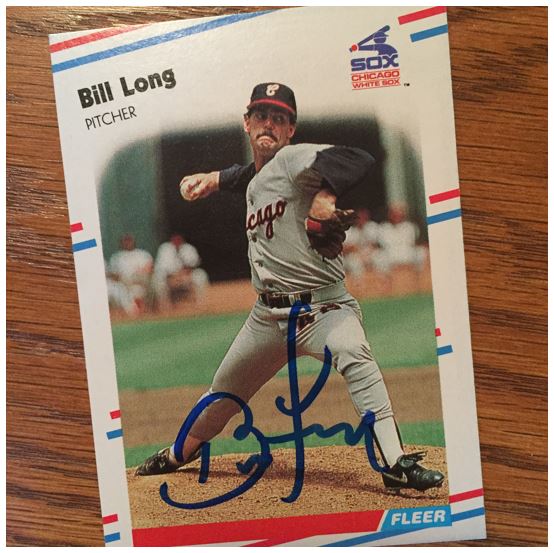 TTM Stats
Sent: 10/2/17 | Received: 10/26/17 | 24 Days
'88 Donruss, '88 Fleer, '88 Topps, '89 Topps, '91 Topps
Address: Home
The Story of the Autograph
Bill Long pitched for the Chicago White Sox, the Chicago Cubs and the Montreal Expos over a seven year career in Major League Baseball. He was originally drafted by the Padres in 1981.
Bill joined the White Sox before the 1985 season in a deal that also brought Ozzie Guillen to the White Sox from the Padres. That deal sent Cy Young Award winner LaMarr Hoyt to San Diego. Bill was a .500 pitcher when all was said and done. His best season was 1987 when he only had 28 walks in 169 innings pitched.
Mr. Long currently teaches at a middle school in Union, KY and he teaches sixth grade social studies.
The Score on Bill Long – 6.0


I would say that Bill's autograph is unassuming but good. Those are some pretty strong caps in that signature. And again that small "g" really gives a signature a good letter to do something with. I like how the "ill" is within the "B" a lot of time. I know it doesn't seem like much but I really like it. If I had to pick on anything it would be size. I think there's plenty of room to make it bigger. But it is nice and clean on all the cards.
Thanks Mr. Long. These get a 6.

>>> READ MORE ABOUT MY AUTOGRAPH SCORING SYSTEM <<<
Thanks for visiting BravestarrCards.com: Card Collecting and TTM Autographs.