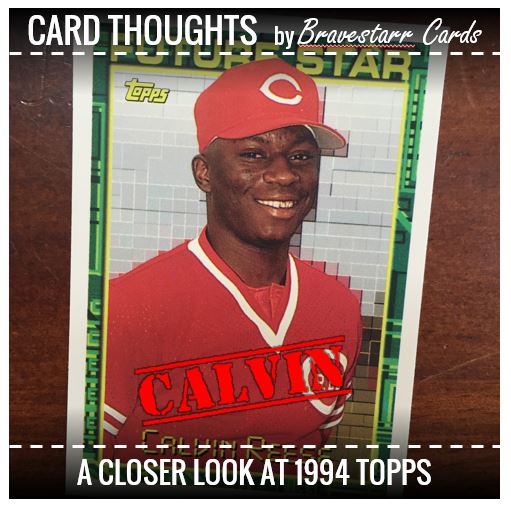 In 1994, Topps really started bitin' on Upper Deck's style. Sure, in previous years that made attempts to update the card and picture quality. And in 1993 they even added a player picture to the back of the card. But in 1994 they added a full picture on the back of the card. But as you find in Upper Deck cards of the time, double pictures mean double the oddities. This is the fourth of a four-part series looking at the results of a $5 retail box from a flea market.
_______________________________________________________________________
The final installment of our look at 1994 Topps is a bit different than the others. Do you remember the old McDonald's commercials with Calvin?
"Where's Calvin?"
"At the J – O – B Man!"
That's the first thing I thought of when I saw this card…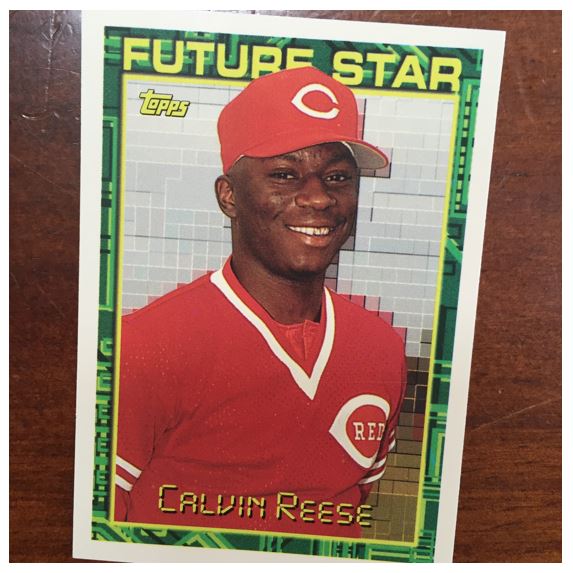 So it's not his first card as it looks like there was a draft pick card in 1993, but this looks like his first Topps card with him in a Reds uniform (his J – O – B Man!). Topps didn't take long to go from calling him Calvin to Pokey. They actually mentioned it on the back of his 1994 card.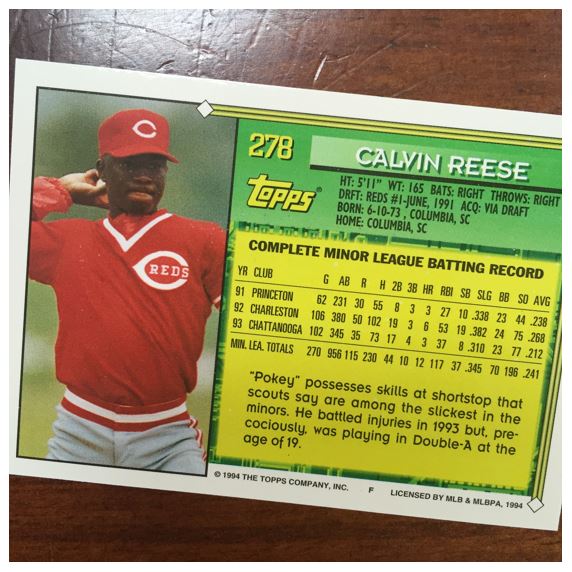 So how did he get the name? Well it turns out the is a story more about his grandmother than him. Pokey was a big baby and his grandmother was going to call him "Porkey." She accidentally called him Pokey and the name stuck.
At least it didn't turn into this… (gotta love those old Chappelle's Shows)
About 1994 Topps Baseball Cards
1994 Topps was a 792-card set that was issued in two series (each made up of 396 cards). Back in the day you could get a 10-card Wax Pack for $0.79 or a Jumbo Pack with 29 cards in it for $1.99. They also made Rack Packs with 33 cards per pack, but I couldn't find the original price on those. There was a gold parallel that you got at just about 1 per Wax Pack. And lastly they made a Black Gold (44 cards, 1:72) and a 1994 Finest Pre-Production (40 cards, 1:36) insert as well.
The players to highlight for the set (and how the cards are labeled) were:
Future Stars: Manny Ramirez, Cliff Floyd, Garrett Anderson, Javy Lopez, Pokey Reese
Prospects: Derek Jeter, Shawn Green, Jason Giambi, Carlos Delgado, Jason Kendall
Draft Picks: Billy Wagner
Coming Attractions: Chipper Jones/Ryan Klesko, Raul Mondesi
Overall not a lot of key cards and no significant rookies (the Jeter card is labeled as a "Prospect" and I think his Draft Pick card from the year prior is really what most people go after).