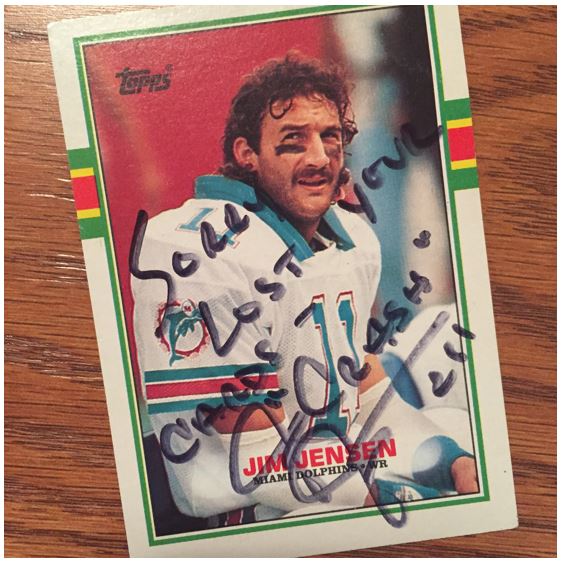 TTM Stats
Sent: 1/9/2018 | Received: 1/29/18 | 20 Days
'89 Topps, '90 Topps (lost the three cards I sent and returned others)
Address: Home
The Story of the Autograph
Jim Jensen played for the Miami Dolphins from 1981 through 1992 and he did just about anything you might have needed him to do on offense. He mostly played wide receiver but would also line up at running back, tight end and quarterback.
Jensen went to Boston University where he played quarterback. He had a great record there and was All-Conference as well as Offensive Player of the Year. Even though he was from a small school, his performance led for him to be drafted by the Dolphins in the 11th round of the 1981 draft with the 291st overall pick.
He continued at quarterback in the NFL until 1983 with the Dolphins drafted some guy named Marino. In order to stay on the roster, Jim would have to find something else to do. He became known for his kickoff and punt coverage on special teams and making plays on third down as a running back or receiver. He was a swiss army knife of a player that Howard Cosell would nickname "Crash."
His best years were late in his career when he was named the Dolphins special teams MVP in 1988. Statistically 1989 was his best year with 61 receptions for 557 yards and six receiving touchdowns. One of those touchdowns was Dan Marino's 200th career TD pass. He also had eight rushing attempts for 50 yards and threw a touchdown pass.
The Score on Jim Jensen – 2.0


These weren't the cards I sent, so somehow I got two of someone else's. Jim admitted as much while signing the card. I still can't figure out if this is terrible, funny, cool or what. I think in the end I don't really like it though. I do, however, like how Jim signs with "Crash". The problem with these though too is that the marker he used wasn't very good. I think with a better marker I might have taken the success and the message a little differently.
Thanks Mr. Jensen. I think I have to give this return a 2 though.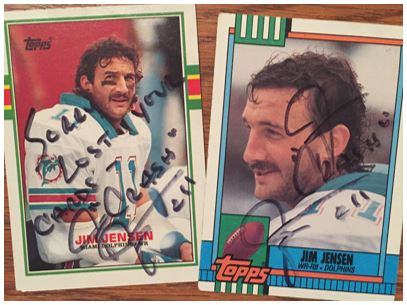 >>> READ MORE ABOUT MY AUTOGRAPH SCORING SYSTEM <<<
Thanks for visiting BravestarrCards.com: Card Collecting and TTM Autographs.
Information gathered using Wikipedia and Pro Football Reference.