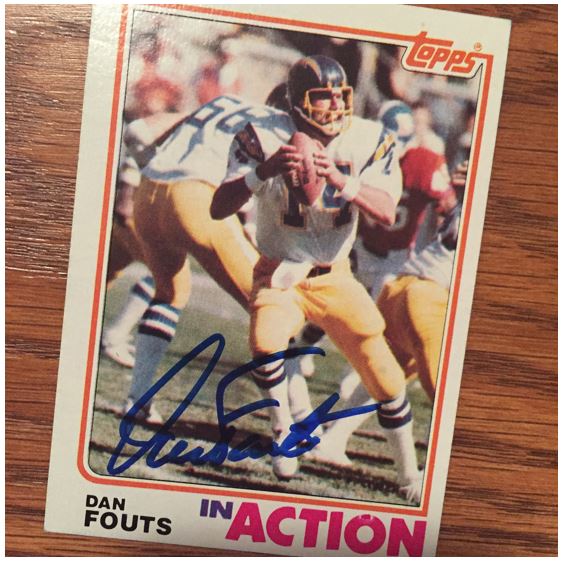 TTM Stats
Sent: 10/21/2017 | Received: 1/29/18 | 98 Days
'82 Topps
Address: Home
The Story of the Autograph
Dan Fouts played quarterback for the San Diego Chargers from 1973 through 1987. He was the key to the "Air Coryell" offense that Don Coryell ran in San Diego starting in 1978. Because of that offense, Fouts was the first player to throw for over 4,000 yards in three consecutive years. But the Chargers were also known as a team that couldn't get to the big game. That said, some people might think of "California Guys" as not being tough, but Dan Fouts could take a hit. He did a lot of that when he dropped back to attempt a long pass and he kept on dropping back.
Dan went to school at Oregon and was pretty much unknown when he got their. But while playing for the Ducks he set 19 school records. The Chargers would draft him in the 3rd round in 1973 with the 64th overall pick.
His first few years in the league were quiet. But in 1976 the snowball started with Bill Walsh being hired as the offensive coordinator and then Don Coryell as the head coach came in 1978. Don's downfield passing attack made the offense explode. From 1979 through 1981, Fouts threw for more than 4,000 yards per year. In '80 and '81 he went over 4,700 yards each year. His 4,802 yards in 1981 led the league as did his 360 completions, 609 attempts, and 33 touchdowns (a career high). His years with guys like Charlie Joiner and Kellen Winslow were amazing.
Fouts would go to six Pro Bowls and become a first-team All-Pro twice and a second-team All-Pro twice. In 1982 he was the PFWA NFL MVP and the NFL Offensive Player of the Year. All of these accomplishments helped him to the Pro Football Hall of Fame.
The Score on Dan Fouts – 5.5


Dan has a solid signature. He uses a good pen and I think I would have rated it a little higher if the card helped the autograph stand out a but. I think the shadows on the ground get in a way a little bit on this one. My problem is that I don't think I have any other cards of Dan that I can send out. Maybe I'll have to look for something else.
Thanks Mr. Fouts! This one gets a 5.5.
>>> READ MORE ABOUT MY AUTOGRAPH SCORING SYSTEM <<<
Thanks for visiting BravestarrCards.com: Card Collecting and TTM Autographs.
Information gathered using Wikipedia and Pro Football Reference.