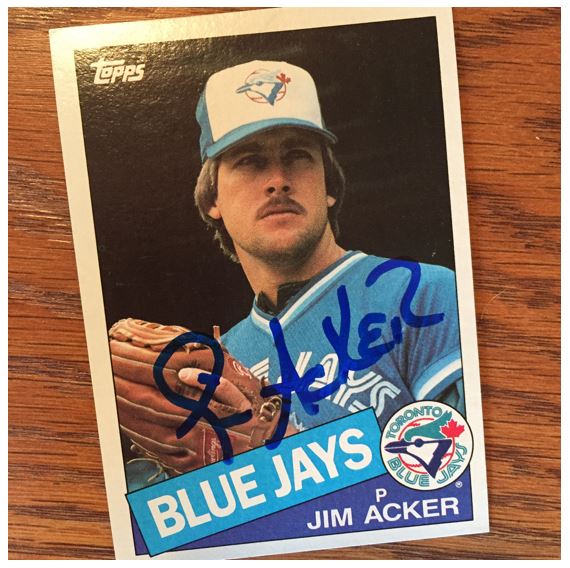 TTM Stats
Sent: 10/14/17 | Received: 10/21/17 | 7 Days
'84 Topps, '85 Topps, '87 Topps, '89 Topps, '91 Topps
Address: Home
The Story of the Autograph
Jim Acker played from 1983 through 1993 with the Blue Jays (twice), Braves and Mariners. He played mainly as a relief pitcher. He played in college for the University of Texas and was drafted by the Braves in 1980 in the first round. While he was drafted by the Braves originally, before he made it to the majors he was picked up by the Blue Jays in the 1982 Rule 5 Draft.
Four years later the Blue Jays would trade him back to the Braves and he spend another 4 years in Atlanta. Then in 1989 Acker was traded back to the Blue Jays. The teams must have purchased some open ended train or plane tickets for him. He ended his career with the Seattle Mariners. Acker played for some very successful Blue Jays teams while in Toronto. He was part of the 1985, 1989 and 1991 AL East winning teams while with them.
While mostly a reliever all of this career, he did start a bunch of games in 1986 (while with Toronto and Atlanta), but that was a whole lot more than he even got close to in his career. His best year might have been 1989 when he also pitched for both teams. He appeared in 73 games that year and had a 2.43 ERA, the best in his career. While with Toronto in 14 games that year he posted a 1.59 ERA.
The Score on Jim Acker – 5.0


This is quite interesting. I don't think I've ever seen someone sign in hieroglyphics before. It looks like Jim is drawing a stick figure for his first name. He almost takes a different approach to every different letter in his name. I see capitals and lower case and print and cursive. Its definitely an interesting combination of styles. He uses a great marker and he takes up a good amount of space. I think some of these don't take a signature very well. For instance, the '87 Topps is a bit dark and some of the others have a lot going on.
Thanks Mr. Acker. These are right down the middle… 5.

>>> READ MORE ABOUT MY AUTOGRAPH SCORING SYSTEM <<<
Thanks for visiting BravestarrCards.com: Card Collecting and TTM Autographs.