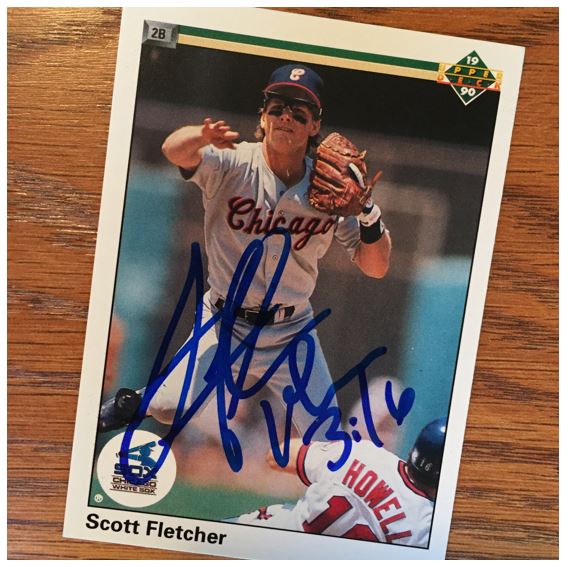 TTM Stats
Sent: 10/13/17 | Received: 10/21/17 | 8 Days
'88 Fleer, '90 Score, '90 Upper Deck, '91 Topps, '92 Topps
Address: Home
The Story of the Autograph
Scott Fletcher had a 15-year career as a middle infielder with the Cubs, White Sox (twice), Rangers, Brewers, Red Sox and Tigers. He was drafted in 1979 by the Cubs and made his debut in the majors in 1981. He only played in a limited role with the Cubs and they traded him to the White Sox in 1983 (at least it wasn't a big move for Scott and his family). He played a few years in Chicago until Ozzie Guillen came into his own in 1985. That off-season the White Sox traded him to the Rangers.
He had a great '86 with the Rangers hitting .300 and being named the AL Player of the Month for July. He became the first professional athlete to earn more than $1 million/year in the Dallas/Fort Worth area in 1988. But after a slow start to the 1989 season he was traded back to the White Sox. He would play out the rest of his career with a few other teams. After playing he was a coach in the minors, in college and also worked with the Rockies and Braves.
During his days with the Rangers he played for George W. Bush when he was the owner. Bush actually named his English Springer Spaniel after him – Spot Fetcher.
The Score on Scott Fletcher – 4.5


Wow, this one looks crazy. Scott certainly takes up all the space he can on the card which is great. But that signature is a whole lotta somethin'. I can see the "S" and kind of see the "F" and the rest of his last name. But then I look at the inscription which I assume is "John 3:16", but I wouldn't put money on that being John. I know it is, because what else would it be, but still…
Thanks Spot, I mean, Scott. These get a 4.5.

>>> READ MORE ABOUT MY AUTOGRAPH SCORING SYSTEM <<<
Thanks for visiting BravestarrCards.com: Card Collecting and TTM Autographs.