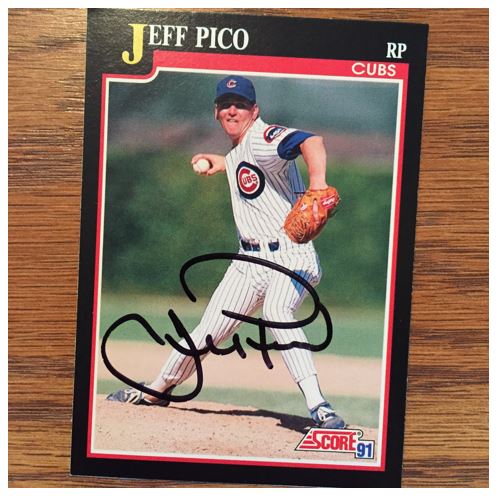 TTM Stats
Sent: 8/19/17 | Received: 8/28/17 | 9 Days
'89 Donruss, '89 Topps, '90 Donruss, '90 Fleer, '91 Score
Address: Toledo Mud Hens
The Story of the Autograph
Jeff was a pitcher for the Cubs from 1988 through 1990. He pitched in 113 games over 3 years with a 13-12 record. His debut was a 4 hit shutout vs. the Reds on May 31st, 1988.
After retiring, Pico became a coach. He's coached in several places but the only Major League coaching experience was with the Reds from 2013-2015.
The Score on Jeff Pico – 8


Jeff is always a good signer in my experience and he signs quickly. I think all these card work out pretty well for a signature too. Something I really like is the loopy "J" and the loopy "P" and how they work with each other – one left, one right, one up one down. And then all of his lower case letters have a similar wave style. He used a great pen too. Nice work overall.
Mr. Pico, you get an 8! Thanks!

>>> READ MORE ABOUT MY AUTOGRAPH SCORING SYSTEM <<<
Thanks for visiting BravestarrCards.com: Card Collecting and TTM Autographs.