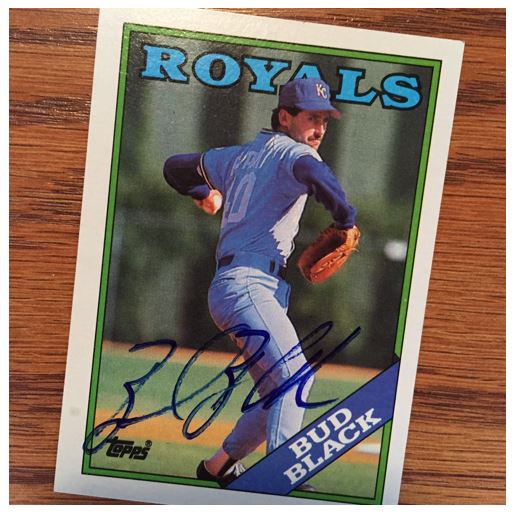 TTM Stats
Sent: 7/15/17 | Received: 8/26/17 | 41 Days
'88 Topps, '90 Fleer ('88 Donruss not returned)
Address: Colorado Rockies
The Story of the Autograph
Bud Black pitched for 15 seasons for six different teams. I think most people would remember his time with the Royals where he was part of a World Series winning team in 1985. He was a pretty good pitcher, and was involved in a few key games: he started the Brett pine tar game, gave up Reggie's 500th and Piazza's 1st HRs.
Since his playing days Bud has both coached and managed. As a coach he was part of the staff for the 2002 Anaheim Angels who won the World Series. Since then he's had two managerial jobs. He managed the Padres from 2007 to 20015 and won the Manager of the Year award in 2010 (this despite his team collapsing in September with a 12-16 record and losing a 6.5 game division lead). He is currently the manager of the Colorado Rockies who are fighting for a Wild Card birth and doing pretty well. They definitely have been a pleasant surprise since the start of this season.
The Score on Bud Black – 3.5


So definitely don't send Bud Black more than two cards because you won't get the other one back. Never mad at that though, just have to appreciate getting anything back. He signs in a good amount of time too. I think names that start with the same letter tend to look better in a signature. I like his "Bs" and how they come out. It adds to an OK signature. The only downside to this specific one is the pen is not good.
3.5 Mr. Black. Thanks as always though!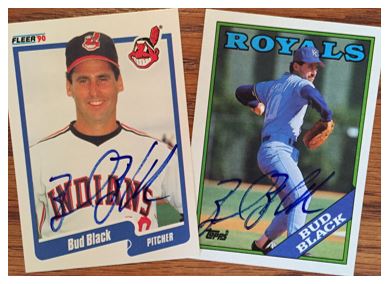 >>> READ MORE ABOUT MY AUTOGRAPH SCORING SYSTEM <<<
Thanks for visiting BravestarrCards.com: Card Collecting and TTM Autographs.