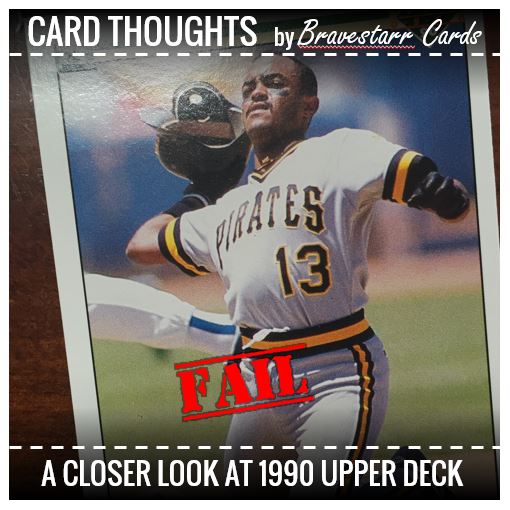 1990 was the second year for Upper Deck, the upstart of the sports trading card industry. Their approach was to deliver a higher end card than the Topps, Donruss, and Fleer. They used white card stock, included high quality photos on the front AND back of the cards and included a hologram on each card to prevent counterfeiting. But with pictures on both sides of the cards in an 800 card set, there's bound to be some oddities. This is third installment in a series of four examining the beauty and quirks of '90 Upper Deck, baseball and the '90s. (#1 – The Fashion, #2 – I'm Too Sexy, #4 – WTF)
_______________________________________________________________________
For this third installment of our look back into 1990 Upper Deck we are going to address one of my pet peeves in cards. Why would you show pictures of people failing? OK, it happens in baseball. Shoot, even if you are good you are failing 70% of the time. But something I noticed while flipping through is that with the volume of picture you need to get pictures on the fronts AND BACKS of the cards, you are going to have to use some pictures you didn't want to have to use.
I guess you can't make an omelette without breaking eggs.  Or maybe it's that you can't break an omelette without breaking a few eggs and instead of the bowl they go on the floor and you pick the cat hair out and put it back into the bowl to scramble them and hope the family doesn't notice. Not that that's happed at all ever to me… just sayin'.
Take Me Out
What's this look like to you? To put it simply, a picture of Paul O'Neill (and Willie Randolph).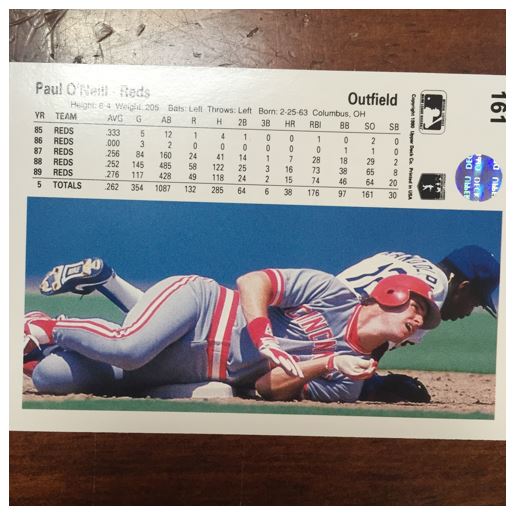 Let's try to expand on that…, a picture of Paul O'Neil (and Willie Randolph) as Paul O'Neill just performed a take out slide at second base.
And we'll take it one final step further. A picture of Paul O'Neill (and Willie Randolph) as Paul O'Neill just performed a take out slide at second base to make the first out in a double play.
I mean Paul is looking back all hopeful and everything, but whoever was behind him is not safe. I'm sure Willie is not going to be happy about all this either, except maybe it was to end the inning and he gets to hit.
Slippin' and Slidin'
I think we need a checklist for this one:
Hat flew off – Cool – CHECK
Shades are up – Cool – CHECK
Stirrups are looking noice – Cool – CHECK
Von misplays ball and gives up an extra base – womp womp womp
Is this what a guy who hit 26 HRs and drove in 78 and stole 28 the year before deserves?
Jose is Mad
I can think of only one reason that you throw you helmet… you're out. Jose is not happy. He's got his pants all hiked up and his draw string is out, maybe all that didn't put him in a great mood. But then he gets himself caught doing something dumb on the bases and he is done.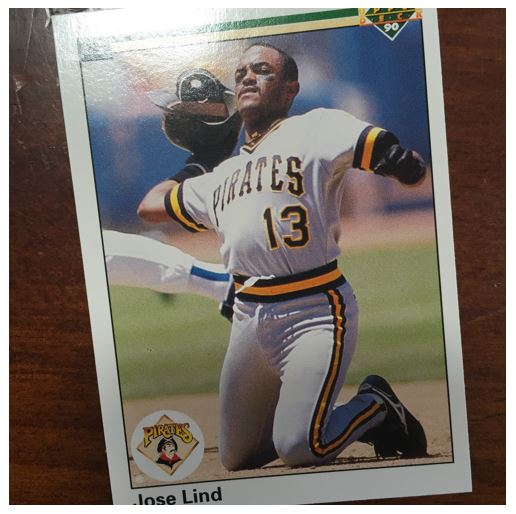 It's either that or he's started some new P90X routine using helmet weight. Yeah, I think that's it.
Face Plant
This one might not be as bad as the others, but I think some circumstances make for it to look a little funny. Because of the dirt, it almost looks like Mitch's face is full on in the ground. On top of that, it almost appears as though he didn't make it to the bag. I'm imagining some kind of Willie Mays Hayes slide where he doesn't get all the way to the bag. But this is instead going back to first.