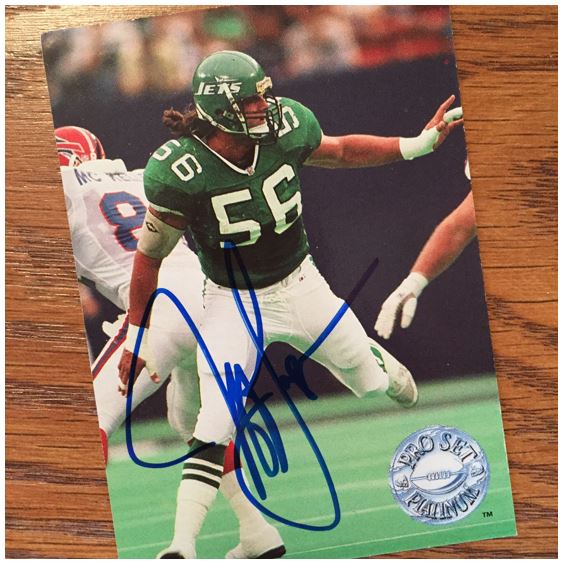 TTM Stats
Sent: 12/2/2017 | Received: 12/23/17 | 21 Days
'91 Pacfic, '91 Pro Set, '91 Pro Set Platinum, '92 Pro Set, '93 Topps
Address: Home
The Story of the Autograph
Jeff Lageman played defensive end in the NFL for 10 years with the New York Jets and Jacksonville Jaguars. He was born in Northern Virginia and went to school at the University of Virginia in the late 80's. The Jets made him a first round pick in 1989.
Lageman might have been considered a bit undersized for the defensive end position but he still got a ten-year career out of that body and got 47 career sacks in the NFL, including ten in 1991. He was a Jaguar in their first season of existence in 1995. Then in 1996 the Jaguars shocked the league and made it to the playoffs to beat the Bills and the Broncos. They ended up losing to the Patriots in the AFC Championship Game.
Jeff retired in 1998. During the first game of the season he tore a muscle in his arm and never played again. After playing he went on to radio. He's into hunting and fishing and had a show called "The Outdoors Show." Then he became a color commentator with Fox. He still does Jaguars games and shows on TV these days.
The Score on Jeff Lageman – 6.0


Jeff has a good signature and it came out really strong on these cards. This may be one of the perfect Sharpies as far as thickness goes. I think it's interesting that he gives more emphasis to his first name as far as spelling it out and taking the most time on it. Then his last name is more of "Lag" and then a line.
Some of these cards are a little dark or busy where he signed. The '91 and 92 Pro Set, the '93 Topps are just dark cards. It doesn't haelp that two of those are where he has a dark uniform on, but that didn't carry over to some of the others.
Thanks Mr. Lageman. I'm giving this lot a 6.

>>> READ MORE ABOUT MY AUTOGRAPH SCORING SYSTEM <<<
Thanks for visiting BravestarrCards.com: Card Collecting and TTM Autographs.