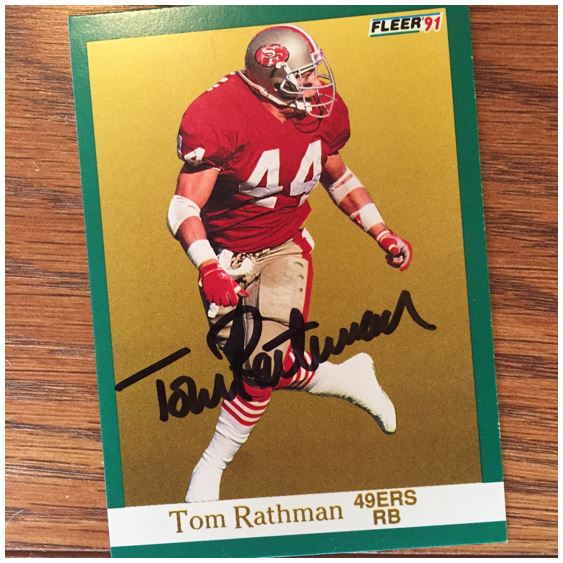 TTM Stats
Sent: 12/12/2017 | Received: 12/22/17 | 10 Days
'90 Fleer, '90 Topps, '91 Fleer, '91 Pacific
Address: Home
The Story of the Autograph
Tom Rathman played fullback in the NFL for the San Francisco 49ers from 1986 to 1993 and then for the Los Angeles Raiders in 1994. I'll always remember him as one of those offensive players who dished out as much punishment to the defense as they would to him. He was in the backfield with some great runners in San Francisco and was a big part of that teams offensive success.
Rathman went to the University of Nebraska. While he didn't have all that many carries or yards over his whole career, he averaged over six yards per carry. But as a fullback he holds records with the Huskers at the position. But even as a fullback he could break some long runs.
The 49ers selected Tom in the 3rd round of the 1986 NFL Draft. In those first years he actually led the way for another former Cornhusker, Roger Craig. He would help the team to two Super Bowl victories in Super Bowl XXIII and XXIV (where he scored two touchdowns). In 1989 he actually led all NFL running back in receiving with 73 catches for 616 yards.
When his playing career ended he coached at the high school level for a year, then college for a year and then joined the 49ers staff i
The Score on Tom Rathman – 7.5


If you start collecting football TTMs and you have a card of Rathman's, he should be one of the first you send out. From what I have seen is a quick and reliable signer and he always seems to do a great job on cards. These are no exception. He uses a strong marker and he always has a nice and clean signature. I think I just have to find some more interesting cards from my collection for him to sign at this point.
Thanks Mr. Rathman. These get a 7.5.

>>> READ MORE ABOUT MY AUTOGRAPH SCORING SYSTEM <<<
Thanks for visiting BravestarrCards.com: Card Collecting and TTM Autographs.