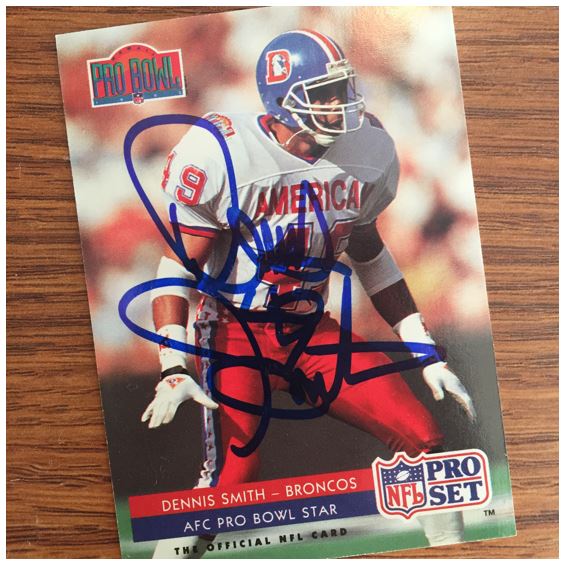 TTM Stats
Sent: 12/16/2017 | Received: 12/26/17 | 10 Days
'91 Fleer, '91 Pro Set, '92 Pro Set
Address: Home
The Story of the Autograph
Dennis Smith played as a safety in the NFL for 14 seasons, all with the Denver Broncos. He was a beast in the defensive backfield and I always remember him as a big hitter.
Smith grew up in California and went to USC. He was an All-America choice in 1980 and played in two Rose Bowls for the Trojans. His college defense could be made up of some of the best secondary members ever with Ronnie Lott and Joey Browner back there at the same time. He had 200+ tackles and 16 interceptions over his career. USC was National Champion in 1978.
He was taken by the Broncos with the 15th pick in the first round of the 1981 NFL Draft. He played in six Pro-Bowls and All-Pro four times during his career. Smith also made it to three Super Bowls, but I think most know how those turned out for the Broncos. He totaled 1,171 tackles, 15 sacks, and 30 interceptions over his career.
He would pass the torch to Steve Atwater as one of the most feared and hardest hitting safeties in the NFL.
The Score on Dennis Smith – 5.5


The best thing about Dennis' signature is the size. He signs nice and big and I love it. I also like the way he put his number in the middle of his stacked autograph. I don't normally like a stacked auto, but I like how this came out. There are some guys that try some interesting things with them and the number in the middle is a good one.
I knocked some off because the Pro Set Platinum card was signed as a portrait card but is really a landscape card. That's probably just how they came out of the envelope and he signed them all in the same direction. The other two are great though.
Thanks Mr. Smith. I'm giving these a 5.5 overall.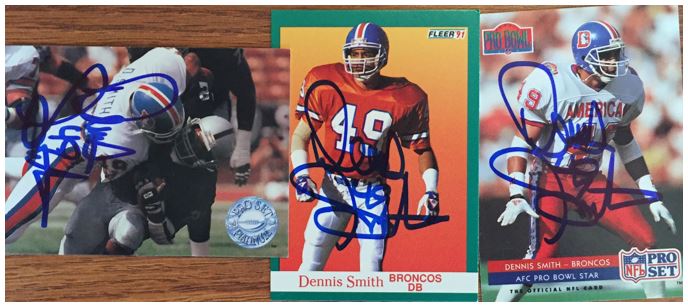 >>> READ MORE ABOUT MY AUTOGRAPH SCORING SYSTEM <<<
Thanks for visiting BravestarrCards.com: Card Collecting and TTM Autographs.