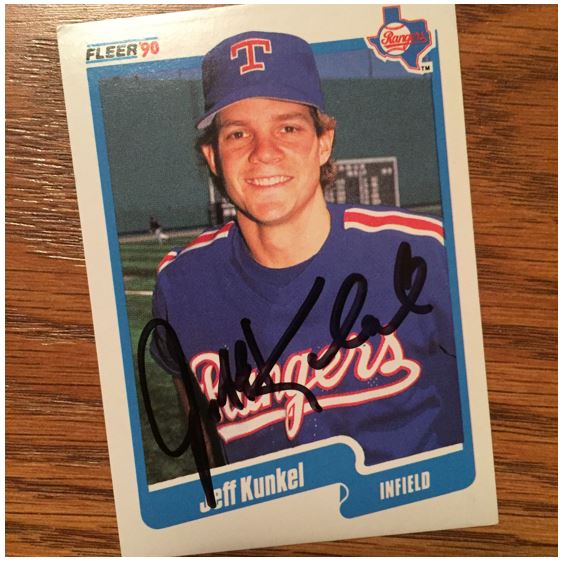 TTM Stats
Sent: 7/15/2017 | Received: 2/2/18 | 197 Days
'85 Topps, '89 Topps, '90 Donruss, '90 Fleer, '90 Topps, Custom Card
Address: Home
The Story of the Autograph
Jeff Kunkel played as a shortstop in major league baseball for the Texas Rangers and the Chicago Cubs. He played for seven years with a little break for an injury between his time with the two clubs. But the vast majority of his career was with Texas.
He was drafted by the Rangers in 1983 after having grown up in New Jersey and going to Rider University. He didn't spend too much time in the minors to start his career, but never became a full-time major leaguer and would spend a lot of time in the minors over his career. Jeff had some struggles hitting, injuries, and a lot of competition in the infield with the Rangers. His best season would be 1989 when he got the most time in his career to play after the Rangers traded Scott Fletcher. In over 100 games Jeff hit .270 with eight home runs and 29 RBI.
In 1992 Jeff moved on to the Cubs as a utility player. He only received 29 at-bats and hit .138. He would try to make it again with the Indians and the Tigers in the minors but would never make it back to the majors.
Jeff is the son of pitcher and former umpire Bill Kunkel (as you can see from one of the cards he signed below).
The Score on Jeff Kunkel – 5.5


I like Jeff's signature, and I seems to like a good "K" lately. I think the one thing I notice in Jeff's signature is that it's not necessarily consistent across the cards. That's a good sign in some ways because you can tell he is signing them. But then it makes it hard to tell what is the most accurate representation of his signature. I think my favorite is on the custom card he sends. I think that makes sense because he probably took the most time on those. But I like to show my cards if I can.
Thanks Mr. Kunkel! These get a 5.5.

>>> READ MORE ABOUT MY AUTOGRAPH SCORING SYSTEM <<<
Thanks for visiting BravestarrCards.com: Card Collecting and TTM Autographs.
Information gathered using Wikipedia and Baseball Reference.