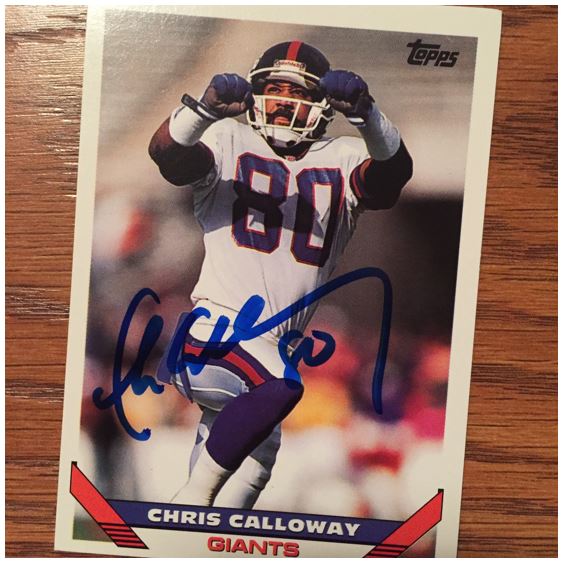 TTM Stats
Sent: 1/23/2018 | Received: 2/2/18 | 9 Days
'91 Fleer, '93 Topps
Address: Home
The Story of the Autograph
Chris Calloway played wider receiver in the NFL for the Steelers, Giants, Falcons and Patriots. His career lasted 11 seasons and the majority of that time (1992-1998) was spent with the New York Football Giants. A flanker at Michigan, he appeared in two Rose Bowl games under legendary head coach Bo Schembechler and was part of a team that won two Big Ten Conference championships. After several good years at Michigan he was drafted by the Steelers in the 4th round of the 1990 draft with the 97th overall pick.
His time with the Steelers was really just as a backup receiver and special teamer. He only started two games in his time in Pittsburgh. The Giants signed Calloway as a free agent in 1992 and Calloway would spend the next seven years in New York and appear in 112 games, 86 as the starter. His first couple years he would still be a back up. But from 1995 through 1998, Chris would lead the team in receiving. He set a franchise record by receiving a pass in 47 straight games from 1996 through 1998. At the end of his time in New York he was third in catches in franchise history behind Frank Gifford and Joe Morris.
His best years was 1997, but 1998 isn't far behind. In 1997 he would catch 58 balls for 849 yards and eight touchdowns. In 1998 he would follow that up with another 812 yards and this time six touchdowns.
In 1999 Chris would move on to the Falcons but would be released the next year. He signed with the Patriots and appeared in another seven games before finishing his career.
Chris ran a nightclub in Atlanta called "Fuel" after his career. He had some bad business relationships though and claimed someone "nearly milked him dry" in a Ponzi scheme.
The Score on Chris Calloway – 7.5


I really like Chris' signature, but there's something about these cards that I love even more than just him signing them. When does a guy sign in two colors? Colors that correspond to the cards he's signing? That's really cool and it shows he cares about what he's doing. I'm giving him a few extra on the top just for the effort.
Thanks Mr. Calloway! I'm giving these beauties a 7.5.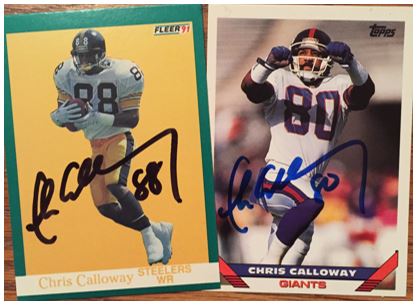 >>> READ MORE ABOUT MY AUTOGRAPH SCORING SYSTEM <<<
Thanks for visiting BravestarrCards.com: Card Collecting and TTM Autographs.
Information gathered using Wikipedia and Pro Football Reference.