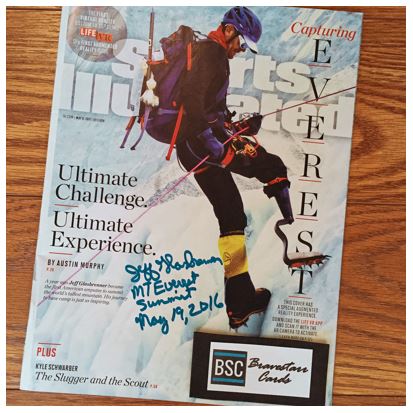 TTM Stats
Sent: 5/27/17 | Received: 6/12/17 | 15 Days
Sports Illustrated 5/8/17
Address: Home
The Story of the Autograph
I couldn't find an address for Jeff, but I sent him a note through his website and asked if he'd be willing to sign the magazine. He got back to me fast and sent his address. Jeff is an amazing guy and has a very inspirational story. I suggest you visit his site at teamglas.com or read his book and check it out.
The Score on Jeff Glasbrenner- 7.5


I love the inscription on this one. How unique is it to have his summit date! I think that's pretty cool. His signature isn't particularly unique or crazy, but that inscription really makes this one and I am so glad that he added it.
This one gets a 7.5 for me – Thanks Jeff! Keep climbing!
>> READ MORE ABOUT MY AUTOGRAPH SCORING SYSTEM <<<
Thanks for visiting BravestarrCards.com: Card Collecting and TTM Autographs.