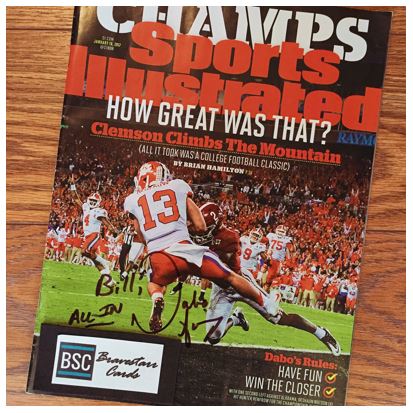 TTM Stats
Sent: 5/27/17 | Received: 6/15/17 | 18 Days
Sports Illustrated 1/16/17
Address: Clemson University
The Story of the Autograph
Congrats to the Clemson Tigers on winning the NCAA Football National Championship this year. If you don't know who Dabo is, he's their coach and after making it back to the championship this year after losing last year, they pulled of an amazing comeback victory. It sure was a great game to watch. I've had some pretty good luck with coaches and Coach Swinney sure signed pretty quickly.
The Score on Dabo Swinney – 7


I love the "All In" on this one. Dabo has a pretty good signature too. I think it's placed in the best spot it can be on this item. I'm not sure if I've said this before, but I really don't mind the personalization. I'm keeping them anyway.
7 it is for Coach Swinney.
>>> READ MORE ABOUT MY AUTOGRAPH SCORING SYSTEM <<<
Thanks for visiting BravestarrCards.com: Card Collecting and TTM Autographs.