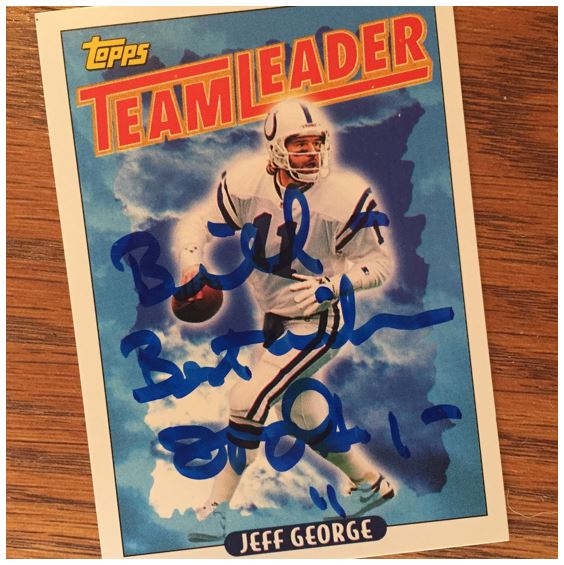 TTM Stats
Sent: 12/20/2017 | Received: 12/29/17 | 9 Days
'91 Pro Set Platinum, '93 Topps
Address: Home
The Story of the Autograph
Jeff George played quarterback in the NFL from 1990 through 2006. From 1990 through 1997 he played as a starter for the Colts, Falcons, and Raiders. In 1998 he would start to become more of a backup in Oakland and then go on to play with the Vikings, Redskins, Seahawks, and Bears.
After going to school at Purdue and Illinois, Jeff was drafted with the first overall pick by the Indianapolis Colts. He played for fours years there and never had a great record (he lost 35 out of the 49 games he played and threw 46 interceptions to 41 touchdowns). After those year in Indianapolis he was traded to the Falcons. He had one very good year with the Falcons and took them to the playoffs, but his second year was not as good and he moved on to Oakland the next year. In both Indianapolis and Atlanta, his relationship with the team turned a bit sour at the end.
1997 in Oakland was one of George's best years statistically. He would pass for 29 touchdowns and only 9 interceptions and have a 91.2 passer rating. But even with that the Raiders struggled and went 4-12 that year. But after that bad year for the team they parted ways with head coach Joe Bugel and in came Jon Gruden and his version of the West Coast offense. It was not a great fit for George and the team moved on to Rich Gannon the next year.
Jeff moved on again to Minnesota.  This time he was the backup instead of the starter and played behind Randall Cunningham. He played well in Minnesota and the team did well also. He took over he starting role when Cunningham was benched and went 8-2 to take the Vikings to the playoffs and also win his first playoff game. The Vikings didn't renew George's contract and he moved on to Washington, this time as the backup to Brad Johnson. He played a couple games while Johnson was injured but the team went 1-2. The next year, with Marty Schottenheimer as the coach and another West Cost offense, things again didn't go well and he was 0-2 and outscored 67-3. George was let go.
From there Jeff played in Seattle and Chicago as a backup/emergency quarterback. He also tried to make it on to a team again in Oakland in 2006. He was confident in his abilities and talent and thought that there should be a job out there for him, but not many gave him the chance. I remember him as being a bit of a headache for teams and that could be part of the reason why he had to jump around and couldn't get a spot later in his career.
The Score on Jeff George – 5.0


Jeff is a guy who fits a lot onto a card. I would compare him to guys like Bill Parcells and Dan Reeves. They do something similar with a name, message, and signature. I certainly don't mind personalization, I just like to see that the signature is a bit bigger than everything else. With Jeff it's usually about the same size as the other parts of his message.
That said, Jeff is a great signer. He's reliable and from what I have seen pretty quick. Jeff is a great guy to start out the TTM hobby with as you'll want to try to get the reliable people to give you some success early. But also, I don't think I've seen a bad card from Jeff. He always uses a great marker and signs in a clear strong way.
Thanks Mr. George. I'm giving these a 5.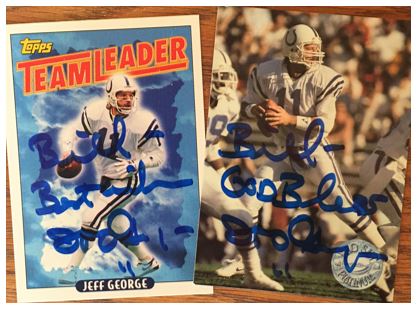 >>> READ MORE ABOUT MY AUTOGRAPH SCORING SYSTEM <<<
Thanks for visiting BravestarrCards.com: Card Collecting and TTM Autographs.