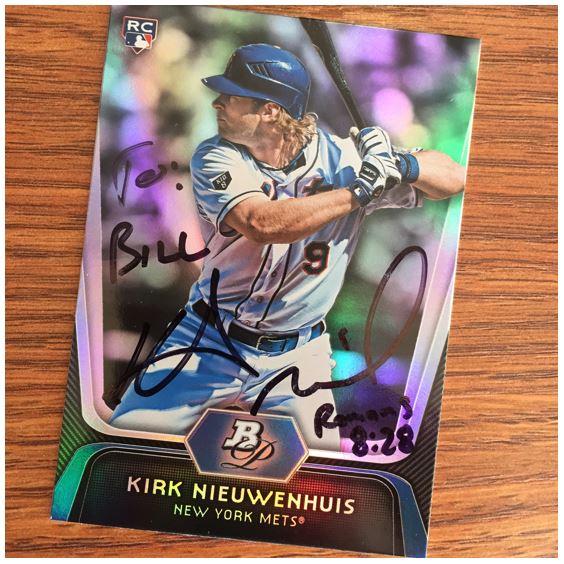 TTM Stats
Sent: 6/9/2017 | Received: 1/2/18 | 203 Days
'12 Bowman Platinum
Address: Team
The Story of the Autograph
Kirk Nieuwenhuis is an outfield and has played for the Mets, Angels (kind of), Brewers, and recently signed a minor league contract with the Mariners (in November of 2017). The majority of the time Kirk's been in the majors was with the Mets (2012-2015) and that's how I know him best.
Nieuwenhuis was drafted by the Mets in 2008. He had some good times in the minors. He never had a ton of power, but he was a pretty good hitter at Buffalo (.298) and Brooklyn (.277). He always seemed to be one of those Quadruple-A players. But fortunately for Kirk, in 2012, the Mets were in need of a replacement because of injury and in those years there was a place for Kirk's skill. He started off great, but after a great first couple weeks he really tailed off. He would get more chances over the next few years until in 2015 the Mets traded him to the Angels for cash. But then the Angels designated him for assignment and 17 days after trading him, the Mets claimed him back.
When Kirk got back to New York he had his most memorable major league moment. Heck, it was a memorable moment for me as a fan as well. On July 12, 2015, Kirk became the first Met player to hit three home runs at City field. A little later that month, Lucas Duda because the second Met to accomplish the feat. Later that year in September, Kirk hit a go-ahead homer off of Jonathan Papelbon and the Nationals in the 8th inning. The Mets had been losing 7-1 and came back to win 8-7. The Mets would sweep the Nationals that week and keep themselves 7 games up in the NL East on their way to making the World Series that year.
Wikipedia will tell you that fans called Kirk "Captain Kirk," but not so for me. My brother and I try to give our own nicknames to players and Nieuwenhuis ended up with the moniker "Kirk-a-Lirk" from us. Sadly, it was along the same lines as Daniel Murphy who we would sometimes refer to as "Murph-a-Lurf."  Not so inventive I guess.
The Score on Kirk Nieuwenhuis – 5.5


I like what Kirk does with his first name, but then he kind of drifts off with the beginning of his last name. Although he then gives a good finale to his last name. It's a long last name though so its a lot to get through. I'd be amazed if he tried to fit it on the card by spelling it out more. He personalized and added a bible verse as well. And even with all that one there, the signature is pretty big. It's a good job of using the space. I really like how these platinum cards come out as long as they aren't too busy.
Thanks Mr. Nieuwenhuis. I'm giving this one a 5.5.
>>> READ MORE ABOUT MY AUTOGRAPH SCORING SYSTEM <<<
Thanks for visiting BravestarrCards.com: Card Collecting and TTM Autographs.