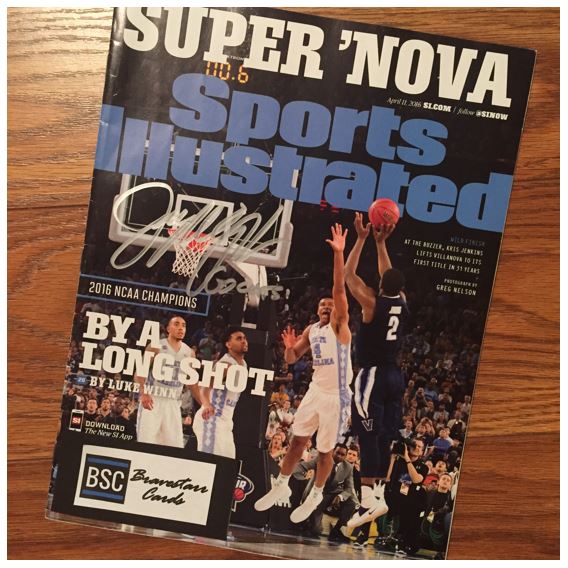 TTM Stats
Sent: 7/29/17 | Received: 11/6/17 | 97 Days
Sports Illustrated 4/11/16
Address: Villanova University
The Story of the Autograph
Jay Wright has coached the Villanova Wildcats since 2001 after coaching at Hofstra from 1994 through 2001. He's got a great record both with the Wildcats and overall. He's a proven great coach by winning the Coach of the Year twice and other league Coach of the Year titles several times over his career.
Coach Wright went to high school not that far from the Philly area (where Villanova is). He grew up in Bucks County, PA and once score 69 points in a high school game. He went to college at Bucknell in Lewisburg, PA and played there in the early 80's. He immediately got started in coaching in 1984 with Rochester as an assistant. From there he was an assistant at Drexel, Villanova, and UNLV before his first head coaching gig at Hofstra.
Something I love about getting Sports Illustrateds like this signed is that it really depicts a moment. Yes, there are some of them that have a picture of a person for a special story they are doing. But my favorites are the moments. This might be one of the best moments in NCAA tournament history (I know hyperbole). But it's hard to argue that this wasn't one of the most exciting games in tournament history. And the fact that it was the final makes it even more special, with Kris Jenkins hitting a three-pointer as time expired.
The Score on Jay Wright – 7.0


I think Jay has a pretty good signature. Probably a little better than middle of the road, but I think there are some pluses and minuses to this one. For the negatives, where the signature falls on the magazine is right over some white lines for the backboard. That kind of hides the silver signature. But when I look at it, where is he going to put it. It's not like he is the player. The marker isn't the strongest, but I think the speed of the signature and the magazine impact that.
The positives though outweigh the negative and that bumps up the score. First, using silver is always a plus for me. No matter what negative it might generate I think there is more value in seeing an alternative color as long as it's pulled off even half-good. Second, I love the "Go Cats!" on there.
I didn't know if I would get this one back so I'm psyched for another National Championship winning coach to add to my TTM list. 7.0 for Coach Wright!
>>> READ MORE ABOUT MY AUTOGRAPH SCORING SYSTEM <<<
Thanks for visiting BravestarrCards.com: Card Collecting and TTM Autographs.