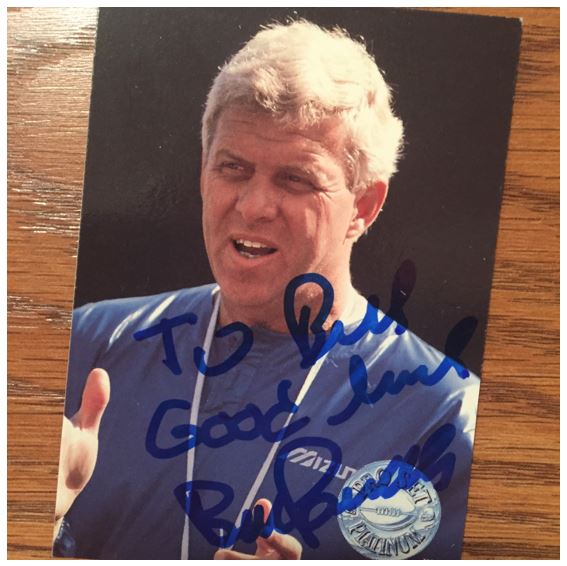 TTM Stats
Sent: 10/28/17 | Received: 11/6/17 | 8 Days
'91 Pro Set, '91 Pro Set Platinum
Address: Home
The Story of the Autograph
Bill Parcells is a coach. No really, that's it. The man coaches. From 1964 through 2006, with only a few gaps here and there he was a coach. He was a position coach, coordinator, head coach and even was an executive in later years. He coached at small colleges, big colleges and at the NFL level. The man did it everywhere, mostly focused on defense, and always demanding the best.
His time with the Giants started in 1979 when he was the Defensive Coordinator. This was his first job in the NFL and after being born and raised in Jersey it might have been special, but he quit the job before the season. He resigned and took a job for a development company while living in Colorado and would call it the worst year of his life.
After coaching with the Pats in 1980 he would come back to the G-Men and stay there through the 1990 season. He became head coach in 1983 and would lead the team to three division titles and two Super Bowl victories. His teams only had two losing seasons (one being the strike year) and ran up an 8-3 playoff record. He coached some of the greatest Giants to ever play, like LT and Phil Simms.
And for the more quirky side of Parcells, he is said to have received the first Gatorade bath in the Super Bowl in 1986. Jim Burt poured it over his head and while some have stated that Mike Ditka had been doused a year earlier, deceased NFL Films president Steve Sabol as has that there is no evidence to support that claim.
The Score on Bill Parcells – 5.5


I love any return from my teams. And being a Giants fan this one is pretty special. I especially love the card where Coach Parcells and LT are celebrating. The biggest problem I have with these cards though… the cards. They really aren't great cards to take an autograph. Mostly just because they are so dark.
The autograph itself is good. Bill signs it, personalizes it, and also writes "Good Luck" (Thanks Coach!). I never mind personalization, especially when it from a team I root for.
Thanks Coach Parcells!  These get a 5.5.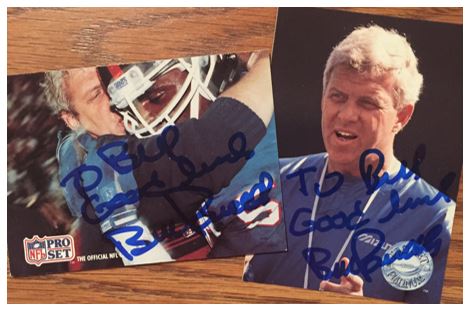 >>> READ MORE ABOUT MY AUTOGRAPH SCORING SYSTEM <<<
Thanks for visiting BravestarrCards.com: Card Collecting and TTM Autographs.