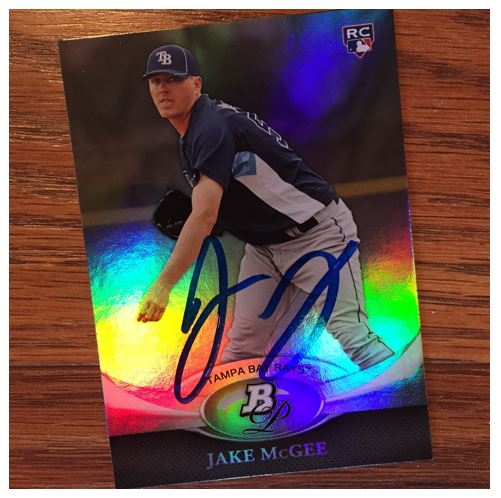 TTM Stats
Sent: 7/28/17 | Received: 9/8/17 | 40 Days
'11 Bowman Platinum, '11 Topps Allen & Ginter
Address: Colorado Rockies
The Story of the Autograph
Jake McGee has been a pitcher in the major leagues since 2010 and has played with the Rays an the Rockies. He also was part of the US team that won the gold this year for the World Baseball Classic. He got the nickname "Clockhands" because of his unconventional windup.
In Jake's first game he struck out Derek Jeter. After that he bounced up and down. But in 2014 he became the Rays' regular closer and saved 19 games, however, he had surgery in the offseason and spent the early part of 2015 in the minors and ended his season in August with another surgery. He was then traded to the Rockies in January of 2016.
The Score on Jake McGee – 2


I've never requested Jake's signature, but it looks like he's a pretty reliable signer. That's great! But his autograph is not all that in the end from a style standpoint. I checked online and this is pretty consistent since he's been a rookie even on official cards. So he's not cutting corners, this is just normal for him.  Thanks Mr. McGee, but I think I have to give a 2 for the auto.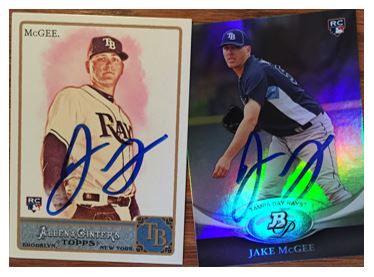 >>> READ MORE ABOUT MY AUTOGRAPH SCORING SYSTEM <<<
Thanks for visiting BravestarrCards.com: Card Collecting and TTM Autographs.