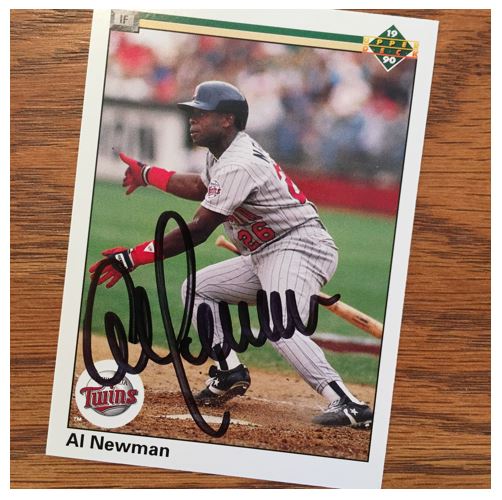 TTM Stats
Sent: 8/19/17 | Received: 9/9/17 | 20 Days
'88 Fleer, '89 Topps, '90 Fleer, '90 Upper Deck, '92 Topps
Address: Home
The Story of the Autograph
Al Newman played for the Expos, Twins and Rangers. He was best known as part of the Twins though and won two World Series championships while in Minnesota. Mr. Newman definitely gave the major league clubs some fits while in college. He didn't sign with three different clubs and finally decided on the Expos after a couple of years. From there he played great in the minors to start his career.
Newman mainly played second base but also played short, third and left field at different times in his career. He wasn't a tremendous hitter though and once went 0-31 in '87. That said he was a good infielder and was also used to pinch run. He once remarked about playing third in an interview, "Dave Winfield hit one right at me last year. I had no chance to move. I looked and the ball was in my glove. I made like I knew what I was doing."
Al also has two quotes regarding Kirby Puckett that I liked. First, when he got to Minnesota and was at his first batting practice he was watching Kirby hit and said "He's the eighth wonder of the world!" The second was when Kirby started two change positions and be used like a utility player Al said, "I'm glad Puck's one of us utility guys now. Maybe he'll raise the salary structure a little."
The Score on Al Newman – 7.0


I think Al has a great signature. I like how it's loopy and kind of looks like tight waves. As I look at his signature I think it looks happy and when you see his face on three of these cards, he's really got a great smile. The '90 Upper Deck card is the best for me by far. A couple of them have darker backgrounds like the '92 Topps and its harder to make out. Overall though a good signature, great pen, and a quick return.
Thanks Mr. Newman… 7!

>>> READ MORE ABOUT MY AUTOGRAPH SCORING SYSTEM <<<
Thanks for visiting BravestarrCards.com: Card Collecting and TTM Autographs.