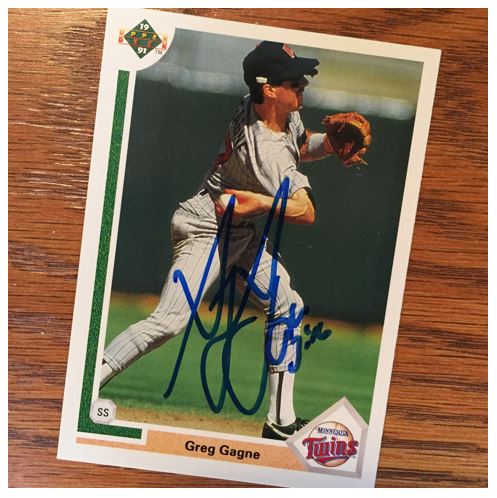 TTM Stats
Sent: 8/19/17 | Received: 9/1/17 | 12 Days
'90 Donruss, '90 Fleer, '90 Topps, '91 Score, '91 Upper Deck
Address: Home
The Story of the Autograph
Greg Gagne was a shortstop for the Twins, Royals, and Dodgers. I think most folks would know him as a Twin as he spent 10 years with them and only two or three each with the others. With that time on the Twins he was part of two championship teams in 1987 and 1991.
Greg started in the Yankees organization and was eventually traded to the Twins in 1982. By 1985 he was a major cog on the Twins. Maybe this wasn't as much in the lineup as in the field. He was a great fielder. That said, he had some highlights at the plate and running around the bases. In October of 1984, Gagne hit two inside the park home runs against the White Sox. Only 18 players have ever done it and he was the second since 1930. What might be the highlight of his Twins career, Gagne hit a game winning three-run homer in game one of the 1991 World Series against the Braves.
The Score on Greg Gagne – 6.5


Mr. Gagne is another guy who just does his initials in the signature. I think in his case he has an effective name for that. In fact, any name that is the same initial for both names is a good candidate (although some letters work better than others). Greg also adds a bible verse inscription. It's kind of hard to make it out on the card I used, but judging by all of them together I believe it's John 3:16 (the standard mention). Overall I think this is really successful. He signs bigger than most guys and he uses a great pen and everything. Some of these cards aren't as good as others I could have used. Maybe next time I will send along some stronger cards.
A solid 6.5!  Thanks Mr. Gagne!

>>> READ MORE ABOUT MY AUTOGRAPH SCORING SYSTEM <<<
Thanks for visiting BravestarrCards.com: Card Collecting and TTM Autographs.