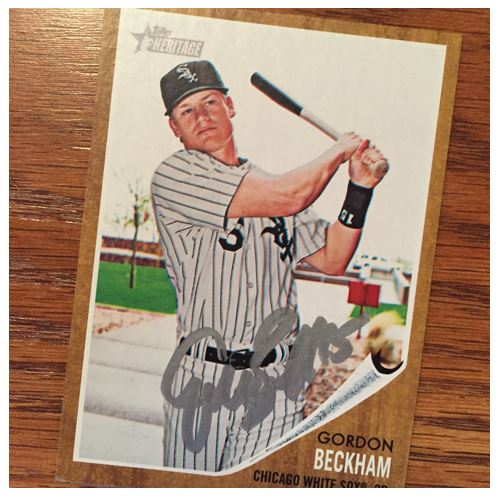 TTM Stats
Sent: 8/16/17 | Received: 9/2/17 | 16 Days
'11 Topps Heritage, '11 Bowman Platinum, '13 Topps
Address: Tacoma Rainiers
The Story of the Autograph
Gordon Beckham is currently with the Seattle Mariners organization and I caught him with the Tacoma Rainiers. He came up with the White Sox and played there until 2014 after debuting in 2009. He's also played with the Angels, White Sox (again), Braves and Giants. After coming up in 2009 both the Sportin News and the AL voted him the rookie of the year. But after a few pretty good years in Chicago, he was traded tot he Angels and from there he's knocked around to a few teams on one year deals or trades. The Mariners signed him to a minor league deal in March of 2017.
The Score on Gordon Beckham – 6


I think that overall if I had to give Mr. Beckham a score for his autograph it would be a below average. My score for this is almost entirely to do with his effort. First, even though the silver doesn't come out great on the cards, it's like he trying to set himself a part and be different. I like the effort to go with something other than black or blue. Second, the guy used to be in the majors and is now hanging in the minors and is still signing and signing with a quick turnaround.
I can't tell you how much I appreciate the effort on this. Thanks Mr. Beckham – 6!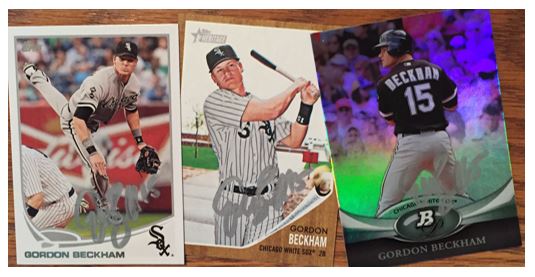 >>> READ MORE ABOUT MY AUTOGRAPH SCORING SYSTEM <<<
Thanks for visiting BravestarrCards.com: Card Collecting and TTM Autographs.