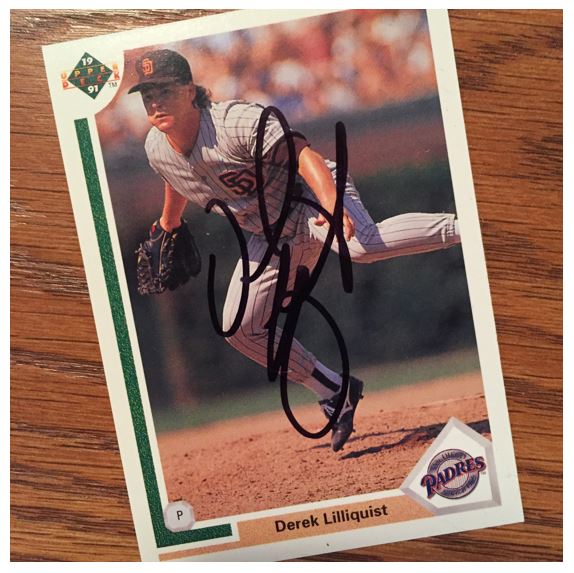 TTM Stats
Sent: 7/28/17 | Received: 10/5/17 | 67 Days
'90 Fleer, '90 Topps, '91 Upper Deck
Address: St. Louis Cardinals
The Story of the Autograph
Derek Lilliquist grew up in Florida and pitched in college for the Georgia Bulldogs. He was very successful in college and in 1987 he was an All-American and was Baseball America's Pitcher of the Year. He helped Georgia to their very first SEC title and helped the team reach the College World Series. He ended his college career with a 31-12 record and 3.30 ERA. All that helped him become the sixth overall pick in the first round of the 1987 MLB draft.
Lilliquist was drafted by the Atlanta Braves and made it to the big ball club by 1989. He started his career off with a win that April against the San Diego Padres. That year he pitched the most innings he would end up pitching in the majors. He gave up a lot of his (11/9 Innings), but also was second in the NL in walks per 9 innings (1.847). He had a successful enough rookie campaign to end up fourth in the Rookie of the Year balloting.
The rest of Lilliquist's career he never spent more than 3 years with a team. He was traded from the Braves to the Padres in his second year in the majors. After the Padres he was claimed by the Indians, then moved to the Red Sox and Reds. After '92 he was mostly a reliever.
After his years as a player Lilliquist moved on to being a coach. In 2011 he sat in for Dave Duncan with the Cardinals while Duncan dealt with some family issues. That was a year in which the Cardinals won the World Series. In 2012 he became the full-time pitching coach. That was up until a couple days ago when he the team announced they would not bring him back for the 2018 season.
The Score on Derek Lilliquist – 5.5


Derek has a pretty cool signature. I find it interesting that it's more up-and-down than it is side-to-side given that his last name isn't really long, but it isn't short either. I think the biggest thing about it is that I can really make out the name. That's not a requirement to a good success to me, but for this one the beginning of the last name is kind of jumbled.
Overall though this is clean and he used a good marker. It's a pretty good size on the card too. I definitely need to find some other cards as these are a bit busy for how Derek signs cards. I do love that picture of him in mid-air on that '91 Upper Deck card.
I'm giving these a 5.5.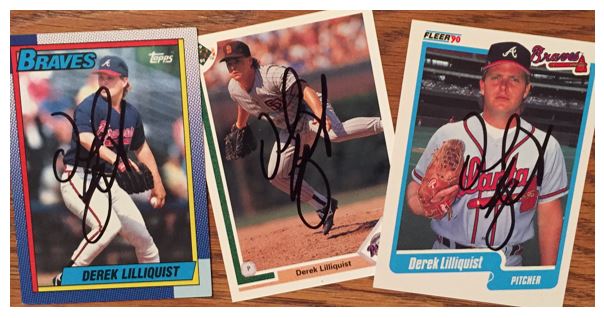 >>> READ MORE ABOUT MY AUTOGRAPH SCORING SYSTEM <<<
Thanks for visiting BravestarrCards.com: Card Collecting and TTM Autographs.