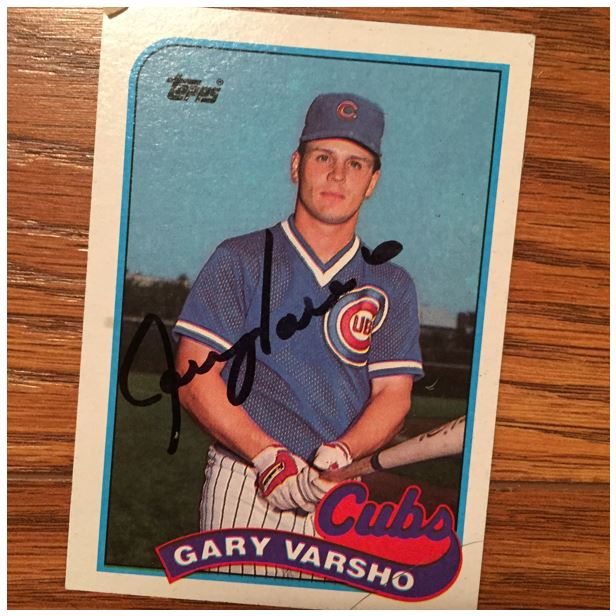 TTM Stats
Sent: 11/3/17 | Received: 11/13/17 | 10 Days
2 '89 Topps, '92 Topps
Address: Home
The Story of the Autograph
Gary Varsho played for four teams over his eight year career. He roamed the outfield for the Cubs, Pirates (Twice), Reds, and Phillies.
Varsho spent 6+ years in the minors after being drafted by the Cubs in 1982. He was originally drafted as a second basemen but played primarily as an outfielder during his career. While with the Pirates he was lucky enough to appear in the 1991 and 1992 NL Championship Series. During those series he went 2-for-4 over four games. His first hit came off of Ed Whitson in 1988 in his first game. However, his first home run wouldn't come until 1992 while playing for the Pirates against Shawn Boskie and the Cubs at Wrigley.
After his playing career Gary coached. He was the bench coach for the Phillies from 2002-2006 and the interim manager for the last two games of 2004 after Larry Bowa was fired. He also acted as the bench coach for the Pirates later on. These days Gary is a scout for the Angels.
The Score on Gary Varsho – 6.0


Gary has what I think is a simple but effective signature. I always love a good capital "G" and Gary's looks more like a big little "g" if you know what I mean. He also seems two make his two names mix together. That is except for that little "o" sitting out there on the end all lonely. It's OK little "o" we won't forget about you. Your so cute sitting out there all by yourself. What a brave little "o".
I think one thing about Gary's signature is that its not centered. That happens a lot. In the end it's really not a big deal but I would worry about that. But I'm kind of OCD about that stuff (can you tell…?).
Great autograph Mr. Varsho – Thanks! I'm giving these cards a 6.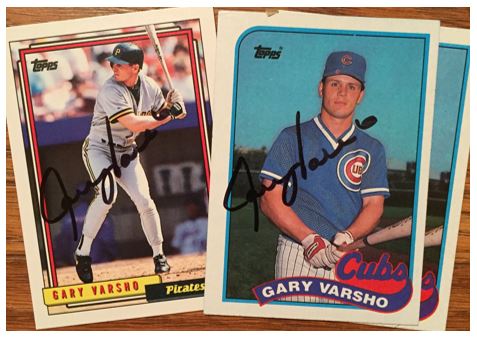 >>> READ MORE ABOUT MY AUTOGRAPH SCORING SYSTEM <<<
Thanks for visiting BravestarrCards.com: Card Collecting and TTM Autographs.