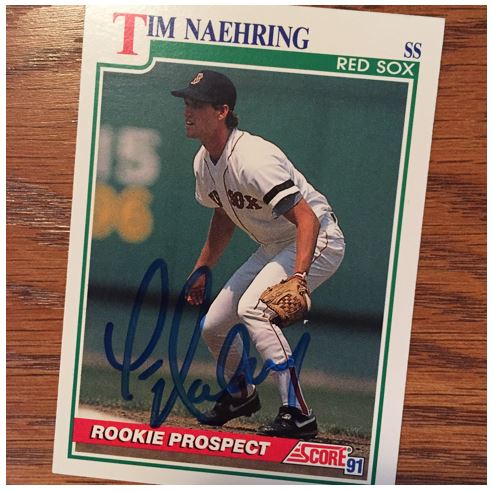 TTM Stats
Sent: 9/15/17 | Received: 11/9/17 | 54 Days
'91 Score, '91 Topps, '92 Topps, '92 Upper Deck, '95 Pinnacle
Address: Home
The Story of the Autograph
Tim Naehring played for 8 years in the majors, all with the Boston Red Sox (1990-1997). But I think what could have been a promising career can be summed up in one word – injuries. He was the Red Sox starting third baseman for a time until his injuries forced him to retire at 30 years old.
He was a good fielder and he was pretty good at the plate too. He had some really good seasons in 1995 and 1996. Then in 1997 when he might have been having his best season, Naehring got a shoulder injury that force him to retire.
In the beginning of his career he struggled with back injuries mostly. He didn't play more than 80 games in a year through his first five seasons. That all changed in 1995 when the Red Sox won the AL East. Naehring played in 126 games and had 10 homers, 57 RBI and a .307 average. The next year he upped his homer total (17) and RBI total (65) and still hit a respectable .288 in ten less games than the year before. His last year in 1997 he was shaping up to improve again and all of his numbers looked like they would improve again if not for the shoulder injury. I always feel bad when injuries hold back what we could see out a player. But I do like that Tim homered in his second to last at bat for his career.
After playing Tim worked in player development with the Reds and then as a scout with the Yankees. In 2015 the Yanks made him VP of Baseball Operations.
The Score on Tim Naehring – 4.0


In my book one of the things you have to have for a good TTM is a strong marker. First, it always looks better when it's bright and clear. Second, you have to have something that cuts through the mess of the images on some cards. This is a great example of a good signature with a BAD marker.
I really like Tim's signature. The way he signs his first name with the loop for the "T" and then the little line for the rest of it is pretty cool. His "N" looks backwards in his last name but  like the way that all comes out. But the shame of it is that the marker is dull. And it really doesn't help that some of the cards I sent won't take a TTM very well. The '92 cards from Topps and Upper Deck definitely. There's too much dark in those cards and that really doesn't help.
Thanks Mr. Naehring. I'll definitely try again in the future because I like that signature a lot. The score is a 4 for this lot!

>>> READ MORE ABOUT MY AUTOGRAPH SCORING SYSTEM <<<
Thanks for visiting BravestarrCards.com: Card Collecting and TTM Autographs.