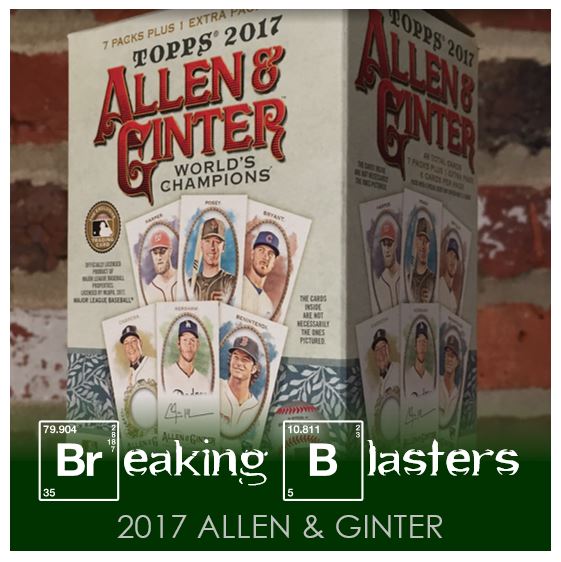 2017 Allen & Ginter are the last blasters I've saved from earlier in the year. I had opened up some in the summer and liked the product overall. Most years A&G is pretty consistent and this year they didn't stray too far from the usual. They are always pretty solid "art" cards with minis and a ton of interesting (although that doesn't always mean collectible for me) inserts.
I love how a TTM comes out on the matte finish of the card so that's always a plus too.
Allen & Ginter Base

This year A&G had a border to the picture. I'm not a fan of a board on these cards in most years, but I know they have to switch it up a bit every year too. I don't think these cards strayed too much from last year aside from the border for the most part. I just prefer that not to be there. But that said, I don't mind this as much as some others that I've seen.
As you can see from the cards above (Correa, Sandoval, and Ripken), each has a water color type of finish behind the player and the frame. I don't know how they decide what colors go with what players or teams. If you read my posts regularly I like them to go with the team colors, but I don't think they did that in most cases.
The other thing that A&G is always good for are former players and non-players. This year some of the non-players I've seen have seemed odd. I found an actor I didn't know in my blasters. I guess that's OK, but I'd take an Ultimate Frisbee champ over an actor any day.
Coming Through with Hits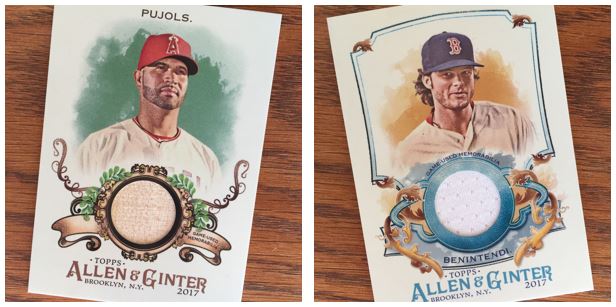 I feel like when I usually get hits out of boxes they are not a top-of-the-line player. This year has been a little different for me. Earlier in the year I got an Aroldis Champman jersey card and now this time I pulled a Pujols bat and a Benintendi jersey. I know Pujols isn't the player he once was, but it's not like his performance years ago is erased when he has some down years. And Benintendi is definitely up-and-coming. I've always like how A&G's had some odd relics in years past. Not to say a bat is odd, but it's not something you pull every day, and definitely not from a blaster.
Allen & Ginter: Famous for the Minis

Allen & Ginter definitely brought back the mini. I think this year is a little light on interest for me among the minis though. For the parallel minis I always hate the A&G backs. I just don't like them when it comes to finding them and sorting them. They always end up in my regular mini stack. The colored mini's are fine I guess, but never anything special. Maybe this is the year I start a franken-set for minis.
The mini inserts I got in these packs are OK. I'm kind of liking the "World's Dudes", but clowns freak me out a bit. Ha Ha! I probably just like it for the title. This was the first of the "Bust a Move" minis I found and it has the dance steps on the back.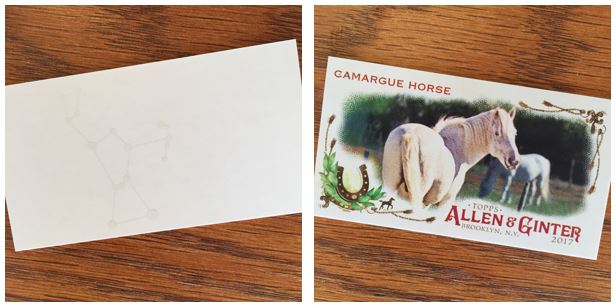 For the Horse mini's I think I have two of them. The problem is I have like 4 each of the two that I have – Boo! The other that looks blank is a Constellation, this one being Orion. I think you can pick it up on the card in the picture, but I almost didn't. I hadn't pulled one of these yet and I thought it was just a blank until I looked closer. Basically it has a glowing ink on the card that you can see in the dark.
My Favorite Insert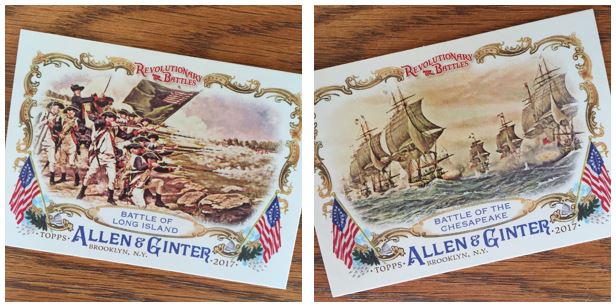 I've toyed with trying to collect specific inserts from A&G sets in the past. Usually there's at least on that I like the idea of. This year for me it's the revolutionary battles. I pulled four of these from the blasters and these two are my favorite. I like them the best because they are kind of based on where I've lived – I grew up on Long Island and now I live in Virginia. I think maybe this year I'll try to run these down (or maybe another insert set from the past). I like the idea of framing them and displaying them.
Rediscover(?) Topps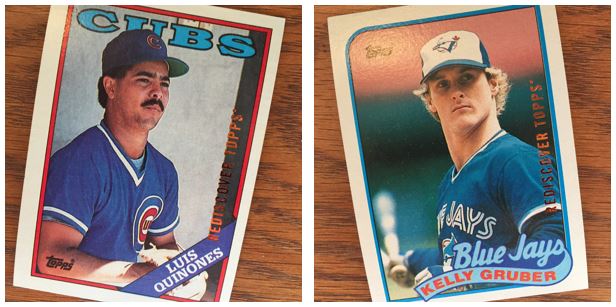 These aren't special, I just thought it was odd to get them in something other than a Series 1, Series 2 or Update Series pack. I always find it funny that these come up because to most of us who've collected for a while we can easily discover these (and what might be 10 of them) in our stacks of cards that we already own. But I guess kids that are newer collectors might see these as something they don't have and if the hobby is going to grow, some kind of younger human is going to need to like these.
These were some good blasters and I got some new TTM fodder out of them. I guess it's going to be time to start writing for Spring Training soon.