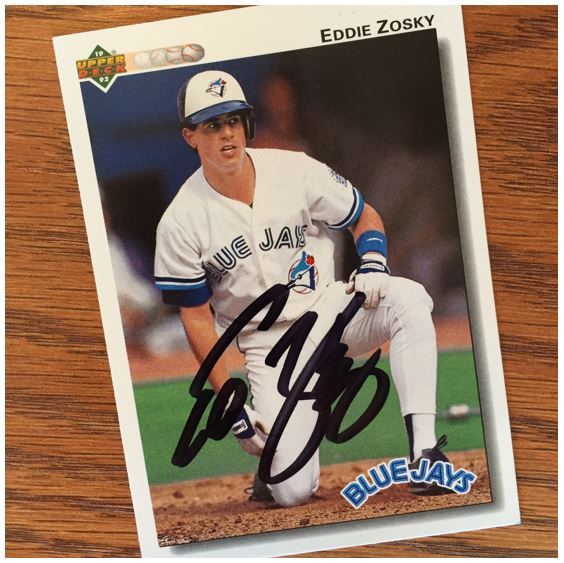 TTM Stats
Sent: 9/21/2017 | Received: 2/3/18 | 132 Days
'92 Upper Deck, '93 Fleer, '93 Leaf
Address: Home
The Story of the Autograph
Eddie Zosky played shortstop for the Blue Jays, Marlins, Brewers and Astros in very limited time in the majors. He would never appear in more than 18 games in a year and that was his rookie season. All of the other years he played in the majors he played 8 games or less with nearly the same amount of at-bats as appearances.
Zosky was a college star at Fresno State University and went to the Toronto Blue Jays through the draft. The Blue Jays had designs on Zosky being their shortstop of the future, but his lack of offense and injuries kept him in the minors for quite a long time over his time with the Blue Jays. When he first came up there was some excitement for him. But the next year he struggled and really could never get much time in the majors at all. That didn't stop anyone from thinking that he would be in the majors though. In 1993 they still thought he had a chance until muscle issues in his throwing arm stopped though. In 1994, Alex Gonzalez had overtaken Zosky in the organization.
Eddie was traded to the Marlins, but it was more of the same there as he would only appear in six games that year. From there he would bounce around a bunch in the Orioles and Giants systems. He got another chance with the Brewers that didn't go anywhere either. After more time in the minors with the Pirates he moved on to the Astros with a couple more appearances in the majors.
After all that time, Zosky played in 1,056 games in the minors and hit .257 with 59 homers and 407 RBI. He played all of the infield and even pitched in a couple of games. Eddie is an example of really so many guys that can't quite make it to the majors and stick around, but who are thought of to have a lot of promise early in their careers.
The Score on Eddie Zosky – 6.0


I think if you have a "Z" in your name you have a pretty good shot at having a cool autograph. I think that the way Eddie signs his "Z" with a loop at the bottom and then the "y" with the loop at the bottom it gives his signature a good amount of flair. I guess it could be a little bigger, but you can recognize it and he signs with a good marker. A little less thickness in the marker and you could pick out his last name better, but I don't think it detracts too much. I like this one.
Thanks Mr. Zosky! These get a 6.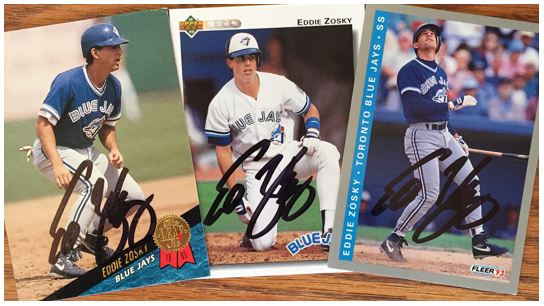 >>> READ MORE ABOUT MY AUTOGRAPH SCORING SYSTEM <<<
Thanks for visiting BravestarrCards.com: Card Collecting and TTM Autographs.
Information gathered using Wikipedia and Baseball Reference.