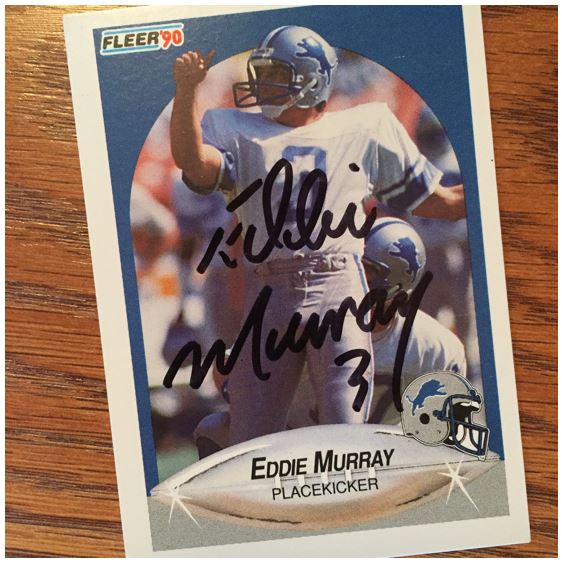 TTM Stats
Sent: 12/29/2017 | Received: 1/6/18 | 7 Days
'81 Topps, '90 Fleer, '91 Pacific, '91 Pro Set
Address: Home
The Story of the Autograph
Eddie Murray played kicker for seven different teams in the NFL (I know it's not, but in looking at them it feels like some kind of record). He played for the Lions for 12 years from 1980 through the 1991 season. After that he spent time with Kansas City, Tampa Bay, Dallas (twice), Philadelphia, Washington (twice) and Minnesota. His last season with the Redskins was 2000.
Eddie's was board in Halifax, Nova Scotia and grew up in Victoria, British Columbia. After graduating from high school he spent a year driving a fork lift in a lumber yard before heading to Tulane where he played in college. In 1979 he had a perfect season, going 35-for-35 and finished his career as a school record holder is several categories. Then he was drafted by the Lions in the seventh round of the 1980 NFL Draft.
Eddie made All-Pro in his first year in the NFL by winning the scoring title with 116 points and setting a franchise record with 27 field goals. He also made his first trip to the Pro Bowl that year (his second wouldn't come until 1989). In the Pro Bowl he made 5 field goals and was the MVP. He became the only rookie to ever receive the MVP for the game. He had some great moments throughout his time with the Lions and he led the team in score in each of his first 10 season until 1990 when a hip injury forced him to miss five games. By 1992 he was waived to make room for Jason Hanson.
From there he became somewhat of a replacement kicker for several teams. The most fortunate of those came in 1993 with the Cowboys (his first time with the team). He replaced Lin Elliott and it 14 games he would have his best season. Then in 1994 he kicked three field goals in Super Bowl XXVIII to earn a ring with the Cowboys. After a few more gigs, Eddie was done, but at the time was the league's oldest player in 2000.
The Score on Eddie Murray – 6.0


Did Eddie get a little tired by the time he got to the '81 Topps card? Probably not because who knows what order these were in. It's just a little funny to see that one only say "Ed" on it while the others say "Eddie". That "E" with the little squiggle is pretty fancy compared to the rest of this autograph. I like Eddie's signature. The best thing is its pretty big, plus he uses a nice marker.  I don't like how he signed over his face, but I don't think that's a problem for the score. It just means the others come out a little better.
Kicker cards are kind of odd because the holder is always in a kind of awkward position on the card, don't ya think?
I appreciate the return Mr. Murray! These cards get a 6.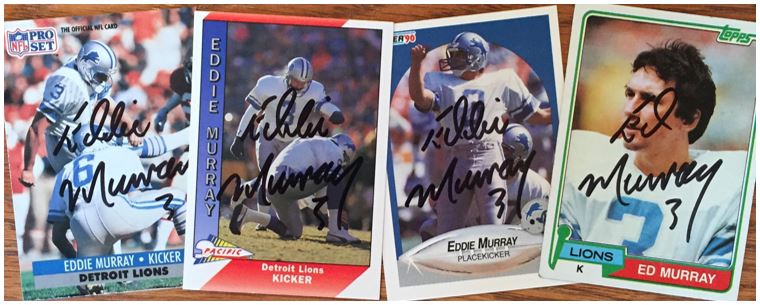 >>> READ MORE ABOUT MY AUTOGRAPH SCORING SYSTEM <<<
Thanks for visiting BravestarrCards.com: Card Collecting and TTM Autographs.