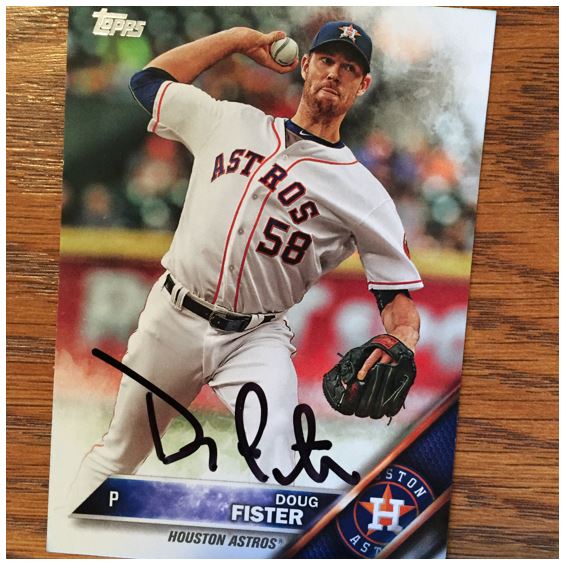 TTM Stats
Sent: 8/24/17 | Received: 10/27/17 | 63 Days
'12 Topps, '16 Topps
Address: Boston Red Sox
The Story of the Autograph
Doug Fister has been in the league since 2009 and started out with the Mariners. Since then he's seen action with the Tigers, Nationals, Astros and Red Sox. After looking at what teams he's played for I really thought he had spent more time in Detroit. But the last few years he seems to be a bit of a "hired gun" in the rotation of teams with eyes on the postseason to try to improve the end of their rotation.
The reason I probably thing of him as being with Detroit probably speaks to where he's had most of his success, at least more sustained success. He pitched in Detroit for two and half years after being traded there from Seattle in 2011. In his time with the Tigers he went 8-1 (after starting the season 3-12 with the Mariners), 10-10 and then 14-9. In all three of those years he was part of the Tigers postseason rotation as well going 3-2 in eight starts. In 2012 he actually helped the Tigers to the World Series where they lost to the Giants.
In 2014 Fister played for the Nats and actually extended his success to a four-year run. He went 16-6 with a 2.41 in his first season with the Nationals and was actually in the Cy Young conversation at the end of the year and was eight in the list of candidates for the award. If there was a whole season of Doug's career that was the best, that was it. It represents his highest season win total and lowest ERA season-wise. He helped the team to a win (no runs, three Ks, three BBs over 7 innings) in the postseason but the Nats fell to the Giants in the NLDS (hmm, the Giants, is that a theme now).
At this point you kind of have to wonder where Doug will be off to next. He's due to be a free agent again after being signed off waivers by the Red Sox from the Angels. I would imagine it would be a team that thinks it needs an extra arm to help it to the postseason that hopes he can find some magic from a few years ago.
The Score on Doug Fister – 6.0


Doug's got a good signature and from what I have seen he's a pretty reliable signer. I actually have a signed ball of his that someone got me at a charity event too. This is another great example of how 2016 Topps cards are great for TTMs. There's that great spot toward the name and loco that has a bit of white behind it. That tends to take the edge off the image in the back so it doesn't muddy up the signature. Just look at the difference with the 2012 card.
There is a little mess on the 2012 card and I'm knocking a little off these because of that. These were done with a really strong marker and I think they are an OK size, but could be bigger.  Thanks Mr. Fister! I'm giving these a 6.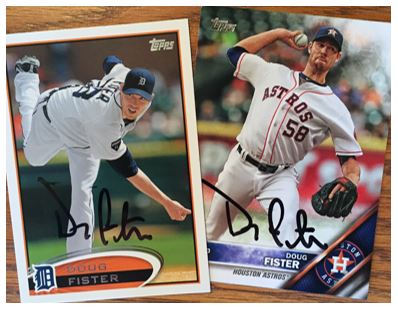 >>> READ MORE ABOUT MY AUTOGRAPH SCORING SYSTEM <<<
Thanks for visiting BravestarrCards.com: Card Collecting and TTM Autographs.