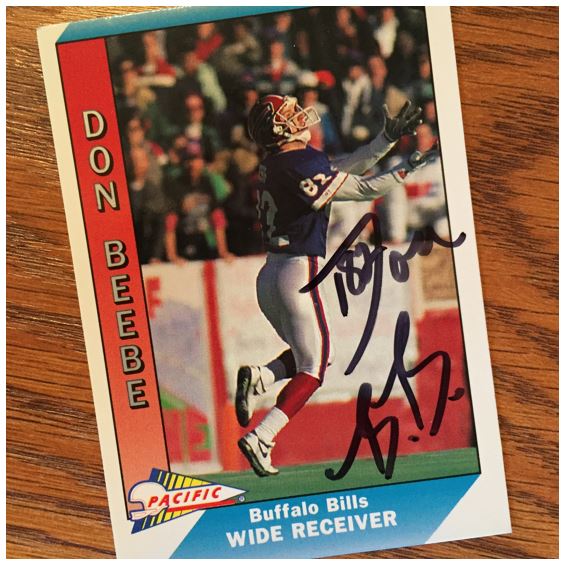 TTM Stats
Sent: 10/13/17 | Received: 10/27/17 | 14 Days
'90 Fleer, '91 Pacific, '91 Pro Set, '93 Topps
Address: House of Speed (Business)
The Story of the Autograph
Don Beebe played wide receiver in the NFL for nine seasons. He played with the Bills, Panthers and Packers, but I think most would really know his as a Bill. While he was a Super Bowl champion with the Packers, he was also part of the Bills teams that lost four consecutive Super Bowls in the early 90's. While that must have been tough, it also must have been pretty sweet to get that Super Bowl win at the end of his career.
If you really want to know what Don Beebe is all about you can go back to one play in Super Bowl XXVII against Dallas Cowboys. The play came in a blowout and meant nothing at the end of the day (and the game), but it was the ultimate exhibit of never giving up on a play. In the fourth quarter, Leon Lett of the Cowboys recovered a Bills fumble and headed towards the end zone. Before he got to the end zone he started to celebrate and he held the ball away from his body. Beebe, who was pretty fast (not that he needed to be to catch the much larger Lett), ran him down and knocked the ball from his hands. The ball went into the end zone and instead of a touchdown the play was a touchback.
At the time the Bills were losing 51-17 and the touchdown would have set a Super Bowl-record for points. But because Don Beebe doesn't give up on a play, the record didn't happen. After the game he was praised by his owner. He also received thousands of letters from fans in both Buffalo and Dallas who gave him credit for being relentless.
Sadly, this example hasn't stopped people from making the same mistake Lett did. And whenever it happens, that's the play that's referenced thanks to Don Beebe.
The Score on Don Beebe – 6.5


Don definitely does things a little different. There's a lot here so let's break it down. First, there's a nice and big "D" and his first name. Then instead of going horizontal, he instead sort of signs vertically. It ends up fitting in a square really. Then even though his last name is "Beebe" he signs it as "B.B." with to great big "Bs" sitting there. And for the inscription he puts his number inside the "D". Normally people put that sort of stuff at the end. I think it's a great signature.
What I don't like is that it doesn't look like it was a Sharpie that was used. It almost looks like one of my kids' Crayola washable markers. I don't know if that's because of the cards or not. If it was you would think it would be happening on one card, but it's on all of them. You can tell because it's kind of faded.
Still, thanks Mr. Beebe and I like the autograph. I'm giving these a 6.5.

>>> READ MORE ABOUT MY AUTOGRAPH SCORING SYSTEM <<<
Thanks for visiting BravestarrCards.com: Card Collecting and TTM Autographs.