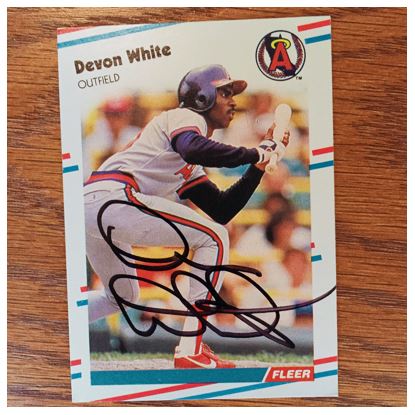 TTM Stats
Sent: 5/27/17 | Received: 6/19/17 | 22 Days
'88 Fleer, '90 Donruss ('88 Donruss and '88 Topps returned unsigned)
Address: Buffalo Bisons
The Story of the Autograph
Devon White played for the Los Angeles Angels (then California Angels) from '85-'90. He's mostly known as being a good defensive center fielder having won seven Gold Glove Awards, but he also had speed on the basepaths. He made the All-Start team three times and won the World Series three times with two different teams (Blue Jays and Marlins). Something interesting that I found out about Devon is that he is Jamaican (born in Kingston) and his last name is actually Whyte, but in the US he was also White. His nickname was "Devo."
The Score on Devon White – 6.5


I really like Devon's "D" and "W". All of his letters have a nice bubbly quality to them which is pretty cool. He does a pretty good job of using the space as well. Definitely a little better than average, at least for this batch. I'm really glad he signed the Fleer card because that bunting pose is not something you normally see on a card.
The look like a 6.5 to me.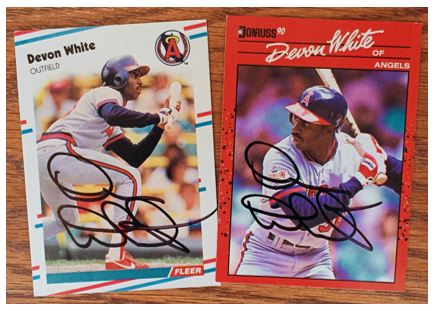 >>> READ MORE ABOUT MY AUTOGRAPH SCORING SYSTEM <<<
Thanks for visiting BravestarrCards.com: Card Collecting and TTM Autographs.