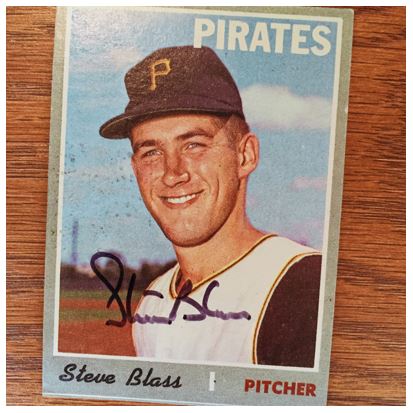 TTM Stats
Sent: 6/9/17 | Received: 6/17/17 | 8 Days
'70 Topps
Address: Home
The Story of the Autograph
Steve Blass is probably a fan favorite Pirate for the old-timey Pirate fans out there. He played in the 60's and 70's and was a World Series champion with the team in 1971. He had some pretty good years and in 1972 he was an All-Star. But Steve might have been one of the best known players to experience the "yips."  Basically he just kind of lost it and couldn't really throw a baseball effectively anymore. These days he's a part of the Pirates broadcasts.
The Score on Steve Blass – 6.5


I like Steve's signature. I'm a fan of the little waves in a signature sometimes and Steve's is one of those signatures. That said, I wish it was a bit bigger on the card. I think this one is a little better than middle of the road for a good guy in baseball.
6.5 for Mr. Blass.
>>> READ MORE ABOUT MY AUTOGRAPH SCORING SYSTEM <<<
Thanks for visiting BravestarrCards.com: Card Collecting and TTM Autographs.