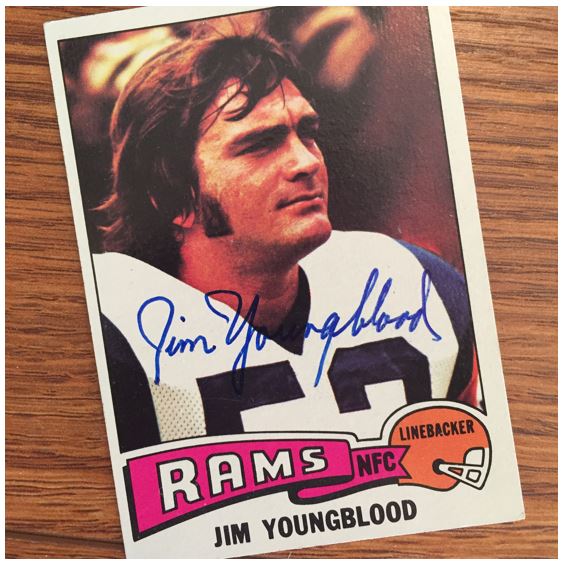 TTM Stats
Sent: 12/18/2017 | Received: 12/26/17 | 8 Days
'75 Topps
Address: Home
The Story of the Autograph
Jim Youngblood played in the NFL for the Los Angeles Rams and the Washington Redskins as a linebacker. He was drafted by the Los Angeles Rams in the 1973 Draft (second round) and played for them until the 1984 season when he moved to the Redskins.
Jim had a pretty solid career in football. While playing for Tennessee Tech in college he set a school record with 476 tackles. He was named the Ohio Valley Conference Defensive Player of the Year in 1971 and 1972 and he made the All-America team. Today he's part of the College Football Hall of Fame.
In his twelve seasons in the NFL he played linebacker but wasn't a started until the 1976 season. He played with some great linebackers in LA and one of his teammates was Jack Youngblood. They aren't related. Because their first names begin with the same letter both players had their full names on the backs of their jersey. And on top of that, because their last name is long, the team couldn't fit the whole thing on one line on the jersey and had to but their first names on top.
Jim made the Pro Bowl once in 1979. He had a nose for the football and made 14 interceptions in the 156 game she played and took 4 of them to the end zone.
The Score on Jim Youngblood – 6.0


Jim has a great signature and I know it might be weird to say, but it really fits that card. I think he has an old school style autograph and that is a really old school style card. It goes great with those graphics, and of course the hair and the sideburns too. Overall its really solid. I know it looks like a ball point pen but it isn't. That's definitely a good solid Sharpie, albeit on the thin side.
Thanks Mr. Youngblood. This one gets a 6.
>>> READ MORE ABOUT MY AUTOGRAPH SCORING SYSTEM <<<
Thanks for visiting BravestarrCards.com: Card Collecting and TTM Autographs.