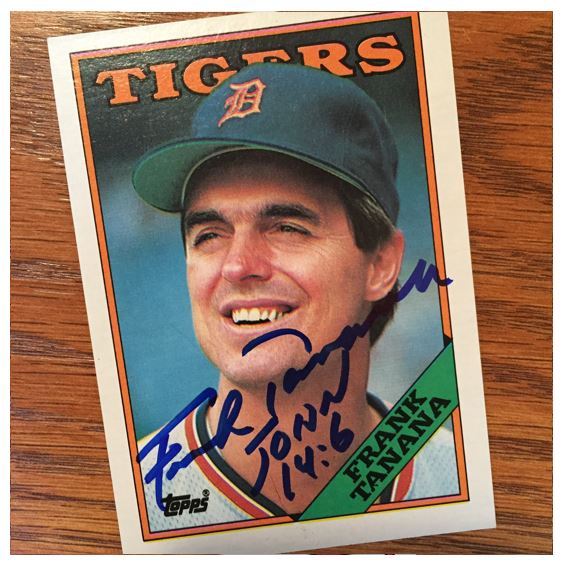 TTM Stats
Sent: 9/29/17 | Received: 10/10/17 | 11 Days
'85 Topps, '88 Topps, '93 Leaf (returned '88 Score and '90 Upper Deck unsigned). Also included a religious booklet signed.
Address: Home
The Story of the Autograph
Frank Tanana is a former left-handed pitcher who seemingly was in the Majors forever. His career spanned 20 years (1973-1993) and he played for 6 teams: Angels, Red Sox, Rangers, Tigers, Mets, and Yankees.
Frank started his career as an absolute fire-baller with a fastball in the 100+ MPH range. If you can imagine it, he and Nolan Ryan were on the same pitching staff with the Angels and I couldn't imagine having to face them for potentially two games of a series when you faced their team. As the saying went, "Tanana and Ryan and two days of cryin'." Unfortunately the Angels bats didn't always help. Frank's only All-Star appearances (3 of them) came with the Angels from 1976-1978. He also led the league in K's in 1975 and the AL in ERA in 1977. And for all you pitch count officiandos out there, Tanana pitched a 13-inning scoreless game in which he received a no-decision. Hold on, let me check the record,… that's wrong. He didn't do it once he did it TWICE.
I can even imagine the 1970's and baseball in those days. Frank and Nolan must have been absolutely lights out. Overall with the Angels in 8 years Frank stat line included:
102 Wins (including a four-year stretch of 15-9, 19-10, 15-9, and 18-12) and 78 Losses
3.19 ERA (in 1977 when he led the AL with a 2.54 ERA)
1233 Ks (he had 269 in 1975 which led the majors and the next year he had 261)
92 Complete Games (with a high of 23 in 1976 – that's 23 out of his 34 starts)
24 Shutouts (his 7 Shutouts led the leave in 1977)
1979 was one of his two appearances in the postseason and unfortunately he had hurt his shoulder that year. He had one start against Baltimore with a no decision.
I'm going to leave Frank's story here for now because I hope to get some more TTM success from him in the future.
The Score on Frank Tanana – 7.0


Frank has always been a great signer. I've always been able to send up to five to him and they would all come back signed. It looks like he's limited that to three. He does return the cards though. Still appreciated though because Frank has a great signature. In addition to the cards he also sends out a religious booklet the size of a card that he also signs. You can see that Frank is a very religious person as he includes a bible verse inscription on each card and he changes it up with each one.
I've always liked this autograph. It really works on just about any card you have (as long as the card isn't too dark). But his autograph is so consistent too. Like I said I've never gotten anything bad back from Frank.
As always Mr. Tanana, very thankful to get your cards back. I'm giving this return a 7.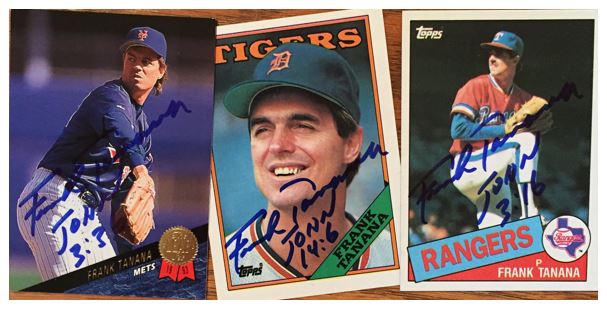 >>> READ MORE ABOUT MY AUTOGRAPH SCORING SYSTEM <<<
Thanks for visiting BravestarrCards.com: Card Collecting and TTM Autographs.