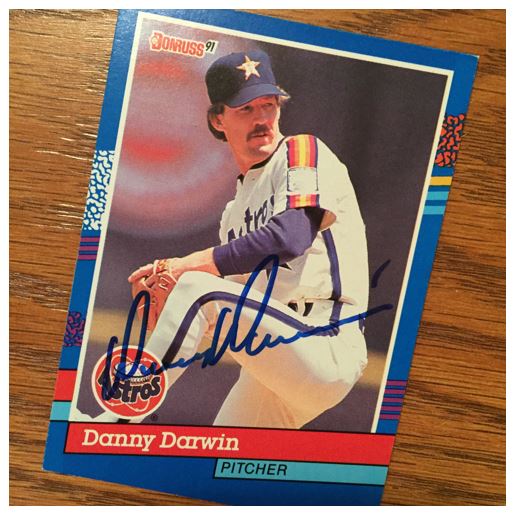 TTM Stats
Sent: 7/7/17 | Received: 9/5/17 | 58 Days
'84 Topps, '89 Topps, '90 Donruss, '90 Fleer, '91 Donruss
Address: Home
The Story of the Autograph
Danny Darwin must love the state of Texas. I imagine he and a teammate looking out over Texas from the top of the Astrodome in Houston and the conversation goes like the Return of the Jedi scene with the Sarlacc in the Pit of Carcoon.
Danny says, "I was born here."
"Yer gonna die here you know…" replies his teammate.
Danny pitched for the Ranger for 7 years, then some other team, then the Astros for 5 years, then two other teams, then the Rangers for a year, then another team, then the Astros for a little, then two other teams. He was known as "Dr. Death" and the "Bonham Bullet" (he was born in Bonham, TX). He was almost .500 for his career, but he did with the NL ERA crown in 1990 while playing for Houston.
So why was he nicknamed "Dr. Death"? Well, you probably need to ask Nolan Ryan for specifics as that's who gave him the name. But apparently it was for how touch he was and all the fights he won. Once during a brawl between the Phillies and Giants, Orel Hershiser claimed Danny punched him in the face. But the two were teammates at the time. Another time while playing with the Giants, Danny and Barry Bonds got into an argument when Bonds didn't field a ball with urgency and it led to an RBI. So Mr. Darwin tended to run a little hot.
The Score on Danny Darwin – 7


Always reliable, always a solid signature, always quality. That's what you can count on when you send something to Mr. Darwin. I think he may have one of the most consistent signatures in all of TTM-ville. He uses a great pen and he uses the whole space. I like that there are a bunch of Astros cards in here and that's why I chose one of those a little tribute to the city and what it's going through right now.
Cheer Danny! It's a 7!

>>> READ MORE ABOUT MY AUTOGRAPH SCORING SYSTEM <<<
Thanks for visiting BravestarrCards.com: Card Collecting and TTM Autographs.