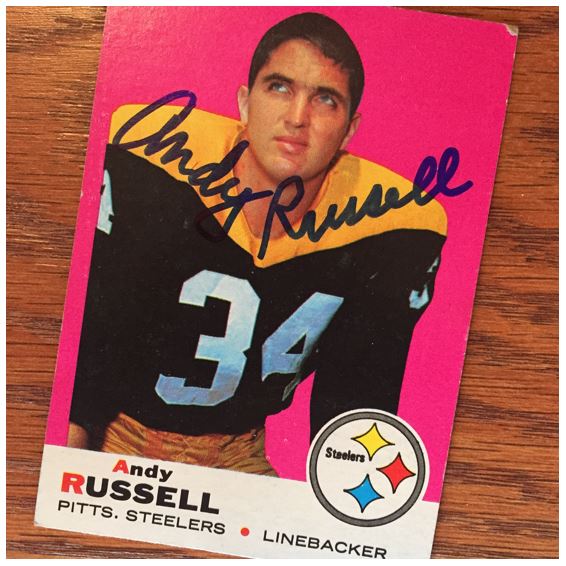 TTM Stats
Sent: 12/2/2017 | Received: 12/20/17 | 18 Days
'69 Topps
Address: Home
The Story of the Autograph
Andy Russell played linebacker for the Pittsburgh Steelers for his whole 12-year career. He moved to St. Louis in high school and had never played football. After moving to the Midwest he started playing and ended up going to the University of Missouri to play for the Tigers.
In his rookie season the Steelers played for the championship against the Bears but he missed out on playing. He left the team temporarily for the Army to fulfill ROTC commitments from college. He was stationed in Germany and was there for two years. In 1966 he returned to the Steelers. So think of what else he could have done with another two years in the NFL.
He was one of the first members of the famous "Steel Curtain" defense and was the Steelers MVP in 1971. He helped the team to two Super Bowls (IX and X). H made the Pro-Bowl seven times and was All-Pro in 1975. And as you can see by what he wrote below, he's proud of all of it… and should be!
The Score on Andy Russell – 5.0


So I guess this is what happens when you have an inscription so big that you need to put it on the back of the sender's letter! This is great! There's no real reason why Andy has to do this. But I love that he's proud enough to take the time to do it. And when you look at him these are not just little things, especially when it come to the Steelers of those days.
As far as the autograph goes, this is the second '69 Topps in a row and you can see the issue with the black uniform. So Andy found the best way for him to sign. Just like with Chuck Howley, that's not his fault, it's the card. And I'm surprised that a card this old took the signature so well. It's really strong and there's no sign of bleeding on the old card.
I really appreciate it Mr. Russel and I love the letter/inscription. I give the card a 5 and the inscription page pulls a Spinal Tap and goes to 11!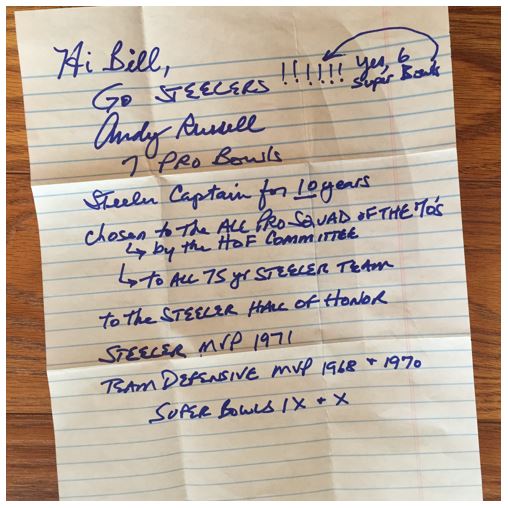 >>> READ MORE ABOUT MY AUTOGRAPH SCORING SYSTEM <<<
Thanks for visiting BravestarrCards.com: Card Collecting and TTM Autographs.