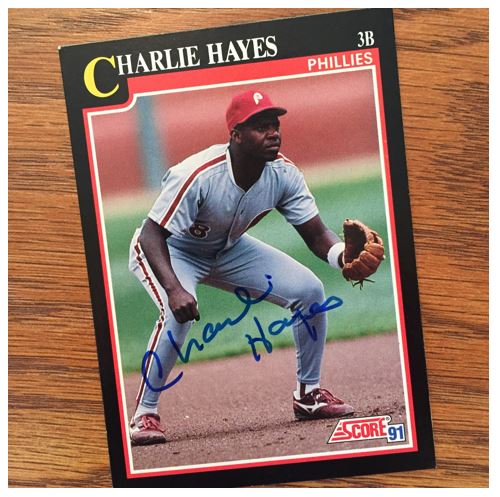 TTM Stats
Sent: 8/24/17 | Received: 9/9/17 | 15 Days
'91 Score, '92 Topps
Address: Lehigh Valley IronPigs
The Story of the Autograph
I usually think of Charlie as a Phillie, which is why I sent the cards I did. But when you look at who he played for he was all over the place. He had two stints for the Giants, Phillies, and Yankees. Then he also played for the Rockies, Pirates, Brewers and Astros. And his best "moment" in baseball was probably winning the Series with New York in 1996 (he even caught the Series ending foul pop by Mark Lemke). I think another big moment would be that he was the Rockies very first third baseman.
Since retiring as a player, Mr. Hayes has given baseball lessons and coached. This year he was a base coach for the Phillies Triple A affiliate.
The Score on Charlie Hayes – 4.5


I feel like Charlie has one of the most "normal" signatures out there. It kind of feels like this is how I sign things for my kids school. Its definitely better than some, but it doesn't have much flair. I wonder if using a thicker pen would be better to make a little bigger signature out of it. That said, he signs pretty quickly and it's a good quality. Pro tip though, only send two to Charlie.
4.5 – Thanks Mr. Hayes.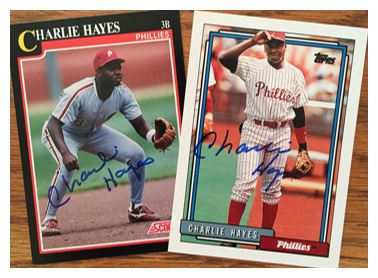 >>> READ MORE ABOUT MY AUTOGRAPH SCORING SYSTEM <<<
Thanks for visiting BravestarrCards.com: Card Collecting and TTM Autographs.