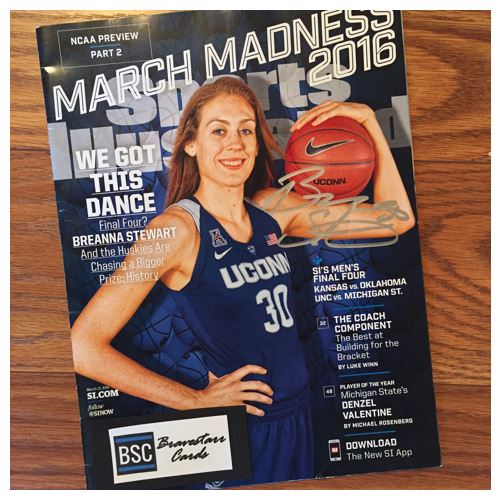 TTM Stats
Sent: 5/15/17 | Received: 9/15/17 | 120 Days
Sports Illustrated 3/21/16
Address: Seattle Storm
The Story of the Autograph
It's probably easier to list the awards and that Breanna Stewart didn't win or the accomplishments she hasn't completed than the ones she hasn't. Here we go:
Wow, really long list.
Simply put, Breanna is one of the latest in along line (a long, long line) of great basketball players to come out of UConn. She led the Huskies to four championships and won the Final Four's MOP (Most Outstanding Player) all four times (a record of course). She was also the National Player of the Year three times. And Breanna could do everything. She played inside, she played outside… She could shoot, she could take you off the dribble. When she was playing for the Huskies it wasn't whether they would beat you, it was by how much.
In her professional career she plays for the Seattle Storm. In 2016 she was the first overall pick and wont he Rookie of the Year award. The way she played in college just continued into the pros. This year she's just as good, making the all-star game. However, her Storm team was just recently ousted from the playoffs by the Phoenix Mercury.
But with all these accomplishments and success, she's a still a down to earth, humble kid. When she signed her letter of intent to go to UConn, she did it on the hood of a car and had her Dad fax it in. She's worked so hard to get where's she's gotten and it's good to see that hard work paying off.
The Score on Breanna Stewart – 6.5


I like a player that signs in an alternative color, plus the silver on this one really goes with the gray and the blue on this cover. Its a pretty good size for the magazine. If I have to be picky about anything its the placement. I think on her side above her hand with the silver on the blue would have rocked. Here autograph has some style and the capital letters are pretty good. I just think the package really works on this one.
I'm giving it a 6.5, but I can't tell you how psyched I am to have this one. As a guy who grew up on Long Island with no cable, I watched Connecticut basketball growing up on the New Haven station. This was back in the late 80's and early 90's. On top of that, my aunt is a huge Huskies fan and even was a pretty successful high school coach. She's going to be psyched about this one too.
Maybe I'm a little biased.
Thanks Breanna!
>>> READ MORE ABOUT MY AUTOGRAPH SCORING SYSTEM <<<
Thanks for visiting BravestarrCards.com: Card Collecting and TTM Autographs.