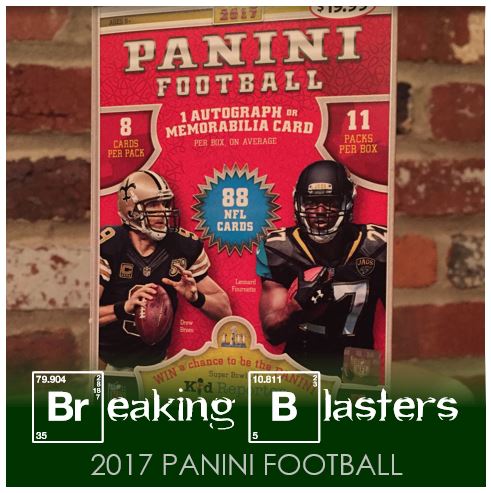 At this point I have to continue. I am forcing myself to continue. If I have to go through with this, you are going through it with me.
2017 Panini Football: I Think I Threw Up in My Mouth a Little

For the record, I didn't even open up all the packs. I couldn't subject myself to the last three and I decided to put them with some other unopened packs I am saving for a rainy day. Or maybe in the case of these, the end of the world.
Can you tell I don't like these? I guess this is a chess or maybe a medieval theme. They use words like "Rooks" and "Squires" on some of the inserts so that could speak to either of those.
But I think the worst thing about these is that I really can't tell whether I bought a Panini brand card or not. Do they even brand it? GAAAH, I can't take it. That has to be the biggest brand on a card I have ever seen.
Not a Great Card to Start Your Career On

The rookie cards get more of a border treatment and hey, lets just turn that border upside down. Maybe that's making me queezy. Well, not just that.
So this brings me to something I don't like about some football rookie cards. There seems to be three choices when creating one:
College action shot
Combine action shot
Manufactured action photo shoot shot
Those are pretty much the order I rank them in. I love to see their college pictures. For one, the colors are awesome. It keeps things interested. And Score really plays it up because they use the colors of the school. Then there's the idea that I don't know where these guys went to school all the time. Sure the guys I pictured I do, but there are so many guys drafted that you don't really know about. I'll take a college shot over these any day.
But I can deal with the combine shots too. Those are kind of specific to football. The combine is just an interesting event for the sport.
Oddest Name In Football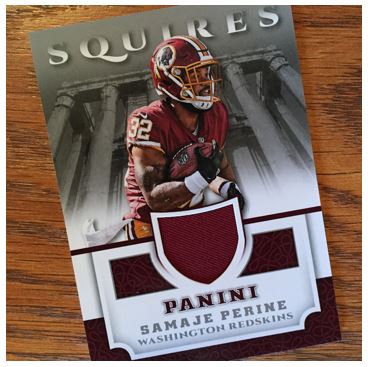 Pee – Rine. I get to here this one a lot living in the DC Metro area. At this point in the season I think he is the only Washington running back left. I'm sure someone in this area will end up loving this card. For now, it's with me.
Yay, Inserts <Sarcasm>
These are the least exciting inserts I've ever seen. That sort of celtic-themed ring kind of goes with the other ones too. I actually took more pictures and then realized I didn't fix them for the post but realized it's not even worth showing them.
The other cards have like "Knights" and "Rooks" and give you that feel of chess.
Maybe the Parallels Get Better

OK so if I get a Panini card, these are it. I don't require shiny on my cards (or crazy shiny in the case of the Chris Hogan card) but at least it makes these more interesting.
Overall I don't like these Paninis at all (if you haven't picked that up yet). They kind of have to put an autograph or memorabilia card in the box or its really not worth it. Let me restate that. It's not worth it even with an autograph or memorabilia card in the box. These will what appears on shelves forever and block my view of the cards that I really want for the next year or so.