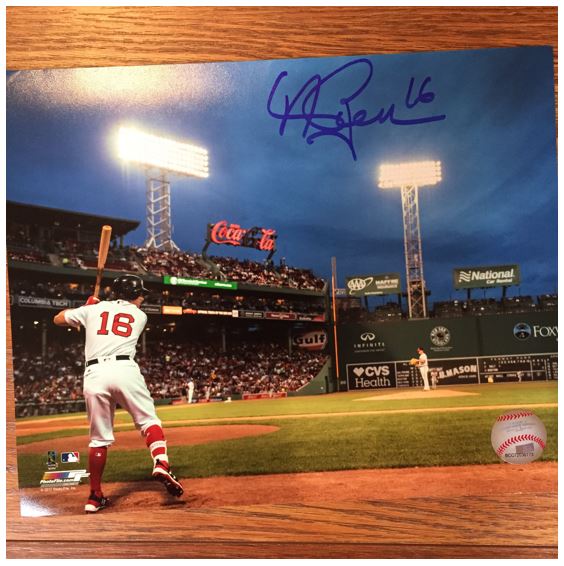 TTM Stats
Sent: 5/15/2017 | Received: 12/12/17 | 207 Days
8 x 10 (Did not return the Sports Illustrated)
Address: Boston Red Sox
The Story of the Autograph
Andrew Benintendi is an outfielder with the Boston Red Sox. He makes up just part of a very young and promising outfield with Mookie Betts and Jackie Bradley. Benintendi was a very successful college player and has so far shown a lot of promise in the major leagues so far.
Andrew went to the University of Arkansas and he started right away, playing in 61 games with 60 starts as a true freshman. I 2015 he led the SEC in average, home runs, on-base percentage, slugging percentage, and walks. He was the SEC player of the year, won the Baseball American College Player of the Year Award (the Dick Howser Trophy), and the Golden Spikes Award. He went into the 2015 draft as one of the top prospects and was chosen seventh overall by the Red Sox.
Benintendi made his major league debut in August of 2016, straight from Double-A. He would make an appearance in the postseason that same year against the Indians in the ALDS. In his first postseason at-bat he hit a home run off of Trevor Bauer becoming the youngest Red Sox player to his a home run in the postseason.
He's a player with a lot of promise and with the way that the Red Sox seem like they are rising, he could be a very good player on a very good team.
The Score on Andrew Benintendi – 8.0


I am a big Hamilton fan, so part of what makes me love this signature is the "A. HAM" look of his "A. BEN" signature. He signs nice and big. I also love the picture and how it's made to take a signature up in that empty sky section. But this is really good quality and it's got all the official stuff on it.
I sent a Sports Illustrated and since I try to collect those I kind of wish I got it back, but this is really awesome so I can really be disappointed in getting this.
Thanks Mr. Benintendi. I'm giving this an 8.
>>> READ MORE ABOUT MY AUTOGRAPH SCORING SYSTEM <<<
Thanks for visiting BravestarrCards.com: Card Collecting and TTM Autographs.