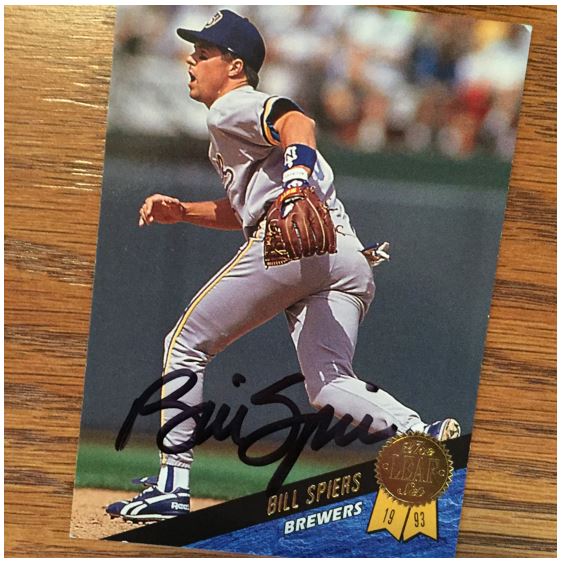 TTM Stats
Sent: 9/23/2017 | Received: 1/22/18 | 119 Days
'90 Upper Deck, '92 Score, '92 Topps, '93 Leaf, '95 Fleer
Address: Home
The Story of the Autograph
Bill Spiers played in the majors for 13 years (1989-2001) and spent time in three places: Milwaukee, New York, and Houston. He only spent a year with the Mets so the majority of his career was with either the Brewers (who he started with) or the Astros (who he ended with).
Spiers was picked in the first round of the 1987 draft as the 13th overall pick. Two years later he debuted for the Brewers in an early April game. At the start of his career he played all over the infield. During his time with the Brewers he played over 100 games four times in his six years there. He generally would put up single digit homers, 40ish RBI, 10ish stolen bases and would hit in the about .250. Nothing really special, but enough to be valuable in various infield spots.
After a year in Queens with the Mets, Bill moved on to Houston. He would go on to play in the outfield a bit more with the Astros, but he was still primarily an infielder. From a statistical perspective he was in about the same place as he was with the Brewers but he played a lot more games per year and actually upped his average to almost .290 during all the years he was with the Astros. He hit over .300 twice and topped out at .320 in 1997 which might have been his best overall year.
In 1999, while playing in the outfield, Bill was attacked by someone from the stands. Mike Hampton was actually the first person on the scene and got a few kicks in. He just happened to have a habit of looking into right field before starting an inning and saw the guy attacking his teammate. The man was arrested and charged with battery and disorderly conduct and Spiers had a black eye, bloody nose, and whiplash.
Bill actually played football at Clemson and was their punter. He actually is an assistant coach with the school these days.
The Score on Billy Spiers- 6.5


I would have given Bill a little better score but there were a couple of these that were either faded or smeared. It looks like that was just from the cards rubbing against each other in the package. Some of these were doubles in my collection and they didn't replace what I had already. But the best of these get a pretty good score. If I had something to pick on it would be to have the signature be a little bigger. Bill has always used a good marker from what I have seen and he has a signature that you can recognize as clearly being him.  Not that it stands out, but you know it's Bill Spiers.
Thanks Mr. Spiers. This return gets a 6.5.

>>> READ MORE ABOUT MY AUTOGRAPH SCORING SYSTEM <<<
Thanks for visiting BravestarrCards.com: Card Collecting and TTM Autographs.
Information gathered using Wikipedia and Baseball Reference.