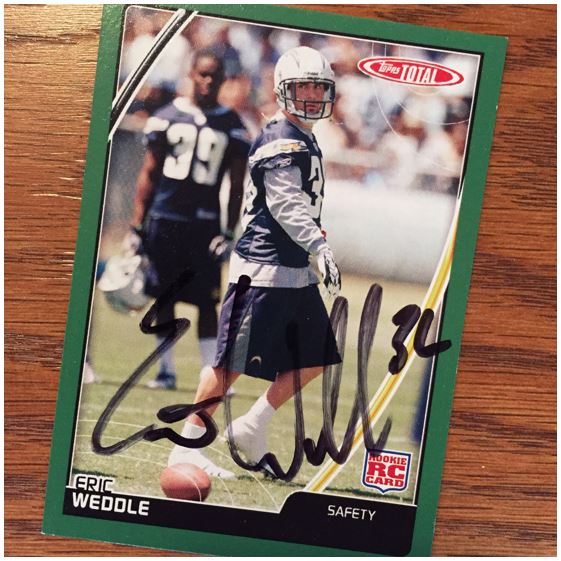 TTM Stats
Sent: 11/25/2017 | Received: 1/22/18 | 57 Days
'07 Topps Total
Address: Baltimore Ravens
The Story of the Autograph
Eric Weddle has played safety for the San Diego Chargers and the Baltimore Ravens during his 12 years in the NFL. The majority of that time was with the Chargers and the last two years with the Ravens. He's one of the better safeties in the NFL and has made the Pro Bowl five times since 2011 and was a First-team All-Pro in 2011, when he led the league in interceptions with seven, and 2014.
Weddle was drafted by the Chargers in the second round after his time playing for Utah. During his time as a Ute he was a two-time Mountain West Conference defensive player of the year. He started 45 of the 48 games he played and played various positions in the defensive backfield. He also had school and conference records or ranks pretty highly in stats like forced fumbles, fumble recoveries, solo tackles, pass deflections, and interceptions.
The Chargers actually traded for the right to move up and get Weddle. He was a solid safety from 2007-2010 and then broke out in 2011 with 88 tackles and a career-high and league-leading seven interceptions. He would continue to play well year after year. In 2015 he skipped some voluntary workouts and then in December he stayed on the field during halftime to watch his daughter perform in the half-time show. He was fined $10,000 and Weddle's agent filed a grievance.
In 2016 Weddle moved on to the Ravens after signing a four-year deal with them in the offseason. He's continued to play well in Baltimore and has come up with some big interceptions in big moments. In 2017 he was named to his fifth Pro-Bowl after intercepting six passes.
The Score on Eric Weddle – 4.0


I've been seeing a lot of Eric's signed cards come back to people lately. It must be a lot because that pen is running out of ink. Unfortunately, that seems pretty consistent across all the cards I've seen. Eric gives you a pretty big signature although there isn't a lot special about it. It's pretty standard so a good marker could have covered up a bit more.
Thanks Mr. Weddle. I'm giving this one a 4.
>>> READ MORE ABOUT MY AUTOGRAPH SCORING SYSTEM <<<
Thanks for visiting BravestarrCards.com: Card Collecting and TTM Autographs.
Information gathered using Wikipedia and Pro Football Reference.