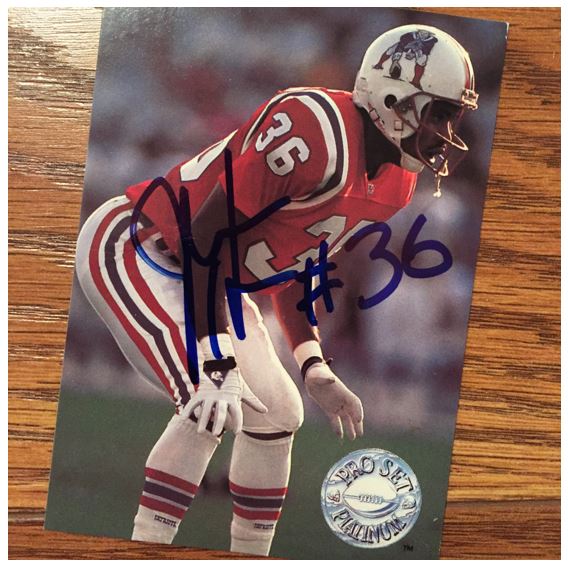 TTM Stats
Sent: 11/9/2017 | Received: 11/27/17 | 18 Days
'91 Pro Set, '91 Pro Set Platinum
Address: Atlanta Falcons
The Story of the Autograph
Jerome Henderson played cornerback in the NFL for the Patriots (twice), Bills, Eagles, and Jets. He played for eight seasons from 1991 through 1998.
He was drafted in the second round out of Clemson by the Patriots. He played in two Super Bowls. First in Super Bowl XXVIII with the Bills (against the Cowboys) and then in 1996 with the Patriots in Super Bowl XXXI (against the Packers). While both of those are losses it's pretty impressive for a player to make it twice, especially with two different teams.
These days Jerome is the defensive passing game coordinator for the Falcons (making the Super Bowl with them last year, again a loss). For the last 11 years Jerome has been involved with front offices and coaching staffs. He started with the Jets as the Director of player development, then the assistant defensive back coach, and defensive backs coach. He moved on to the Browns and Cowboys as a defensive backs coach and has been with the Falcons since 2016.
The Score on Jerome Henderson- 5.5


Jerome has an Initials signature. While there is a little more to it than just a "J" and an "H", it's not much more. His "No. 36" is almost bigger than the main part of this autograph. He signs in a good strong marker. I think he fills up the card a bit better on the portrait card rather than the landscape card. Pretty solid though.
Thanks Mr. Henderson! These get a 5.5.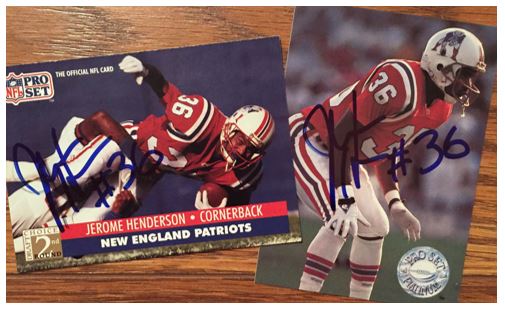 >>> READ MORE ABOUT MY AUTOGRAPH SCORING SYSTEM <<<
Thanks for visiting BravestarrCards.com: Card Collecting and TTM Autographs.