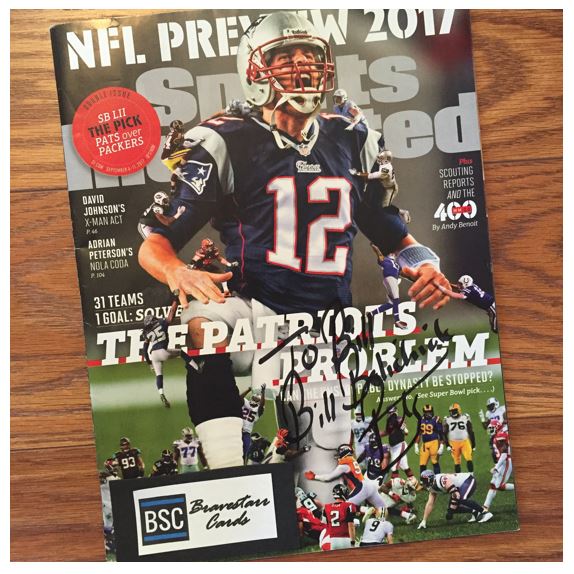 TTM Stats
Sent: 9/7/17 | Received: 9/29/17 | 22 Days
9/4/2017 Sports Illustrated
Address: New England Patriots
The Story of the Autograph
This is probably another guy that I can tell you much about that you don't know. Not that he tells anyone anything, just that he's been around for a while and he's won so many darn Super Bowls that there are NFL Network specials about him and everything. So here are just some things that I find interesting about him:
He was raised in Annapolis, MD (not that far from me) and his Dad was an assistant football coach at the U.S. Naval Academy. This is really where he started learning football and forming his football mind.
Belichick played Tight End and Center in college. I know it was a small school, but I think of him as a small guy.
His favorite sport growing up might have been lacrosse and he was the captain of the team in his senior year at Wesleyan.
This ones my favorite. He coached for 12 years with the Giants starting in 1979 and coach special teams, defense, linebackers and was the defensive coordinator for two Super Bowls. His defensive game plan from the Giants 20-19 win over the Bills is now in the Hall of Fame.
He won one playoff game while with the Browns in their only winning season with him as coach – against the Pats.
He cut Bernie Kosar in 1993. Kosar was on the Super Bowl winning Cowboys that year.
He was head coach of the Jets twice… sort of.

The first time he became the coach he ended up becoming the DC under Parcels when they were trying to get Parcells from the Patriots
The second time he was hired for one day and right before his press conference he wrote a resignation note and read it to the press core. He was hired by the Pats, the Jets fought to say he was still under contract and after getting a first-round pick from the Pats, the rest is history.
Like him or not, he may be the greatest coach of all time in football when it all comes down to it. I'm not a huge fan, but I do love the way he treats the media. I always wondered why you don't just give the media simple answers. Nothing says you have to talk a lot. You meet the requirement by talking.
Sure he had "Spygate" and all that, but what's the saying, "If you ain't cheatin', you ain't tryin'?" I don't really believe that, but in the end, do we really think recording the Jets is the reason they would beat them. I wouldn't put it past them to not be recording them but to be trying to get in their heads.
The Score on Bill Belichick – 6.5


This one is more the "print your name here" than "sign your name here". But then again, in that sense, it's different than most everything else you see. With regard to what I normally look for… it's big – CHECK… it's clean – CHECK… it's interesting – there's that "Pats" inscription – CHECK. It checks a lot of boxes even though it might not be exciting. I think this is a pretty busy magazine and he put his signature where I would have through it would go, but it came out a bit muddled. That's not Coach's fault though.
But I think what takes me over-the-top on this is what else it came with. Yeah, so what, it's a letter. Yes, a letter. Telling me he got my letter, that it was a magazine (not an item), and it's addressed to me and had my address. So what if you think he staffed this out. He obviously signed the letter. This is the stuff that I really like. I really like when people who have better things to do take the time to do it right. It's like getting great customer service at a store or having a great experience with a waiter. Those are the things that make you come back. Those are the things that make you remember it.
Thanks Coach Belichick. 6.5 is the score.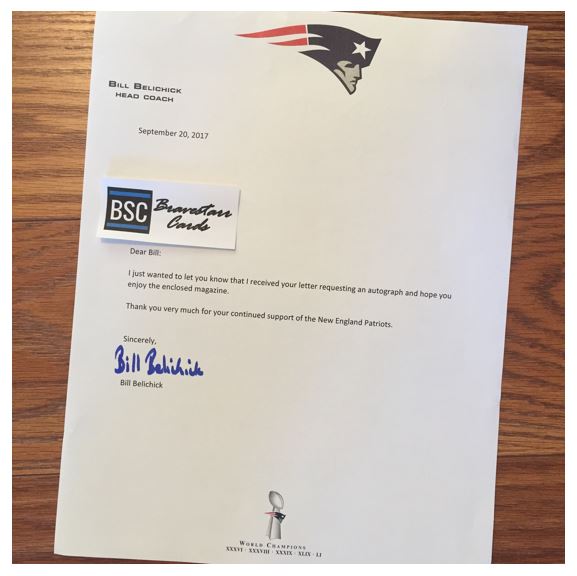 >>> READ MORE ABOUT MY AUTOGRAPH SCORING SYSTEM <<<
Thanks for visiting BravestarrCards.com: Card Collecting and TTM Autographs.