TTM Stats
Sent: 9/15/17 | Received: 11/2/17 | 47 Days
'10 Topps Heritage, '11 Topps (Returned '11 Topps Opening Day and '13 Topps unsigned)
Address: Home
The Story of the Autograph
Aubrey Huff played the corner infield spots and the outfield for several different teams over his 13 year career. Mr. Huff had a great college career at Miami and played a couple years in the minors after being drafted in 1998. He spent seven years with Tampa Bay, and then played for the Astros, Orioles, Tigers and Giants.
Huff could always hit. He had some years where he had a great batting average and he had a little bit of power over his career. He was good enough and played for long enough with the Rays that he is atop a lot of the leaderboards for the Rays records.
When you look at his statistics he hit .278 for his career with three of his 13 years being over .300 and a high of .313 in 2002 (which he followed up with .311 the next year). If you expand that average a little bit almost half of his time in the majors he hit over .285 (six years). He was a bit up-and-down in the power department but still hade two years where he hit over 30 home runs and seven years over 20. I think if you had to pick his best year it might be 2003 with the Rays or 2008 with the Orioles.  Here's what those years look like:
2003, Rays: 162 Games, 636 ABs, 34 HRs, 47 Doubles, 107 RBI, .311 Average
2008, Orioles: 154 Games, 598 ABs, 32 HRs, 48 Doubles, 108 RBI, .304 Average
In 2008 he had a good enough year to earn the Silver Slugger award. And surprisingly, he even showed up on the MVP ballot a few times. He was down the list, but still.  In 2003 he was 24th, in 2008 he was 16th, and in 2010 with the Giants he was 7th. In 2010 and 2012 he was part of the Giants World Series Championship teams. In the end, I think Aubrey had a great long career.
The Score on Aubrey Huff – 6.5


I like this autograph and normally I am a bit against signatures you can't understand. I think the difference in Aubrey's versus others is that there's an organization to his. I can definitely make out his first name and the end of his last, but I think its the middle and the overlapping really impacts how you figure it out. But overall I think this is well done. He makes a pretty big signature and the marker is great. Its also pretty consistent given how chaotic it seems. I know I say it a lot, but those Heritage cards really take a great autograph. And the 2011 Topps is a great picture with great color. I'm really glad these are the two he picked to sign.
Thanks Mr. Huff. I'm giving these a 6.5!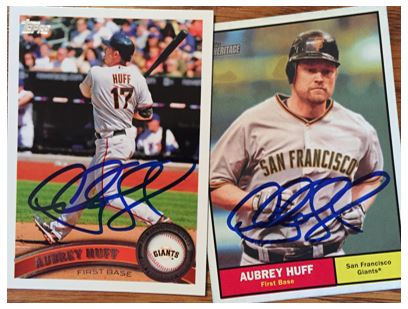 >>> READ MORE ABOUT MY AUTOGRAPH SCORING SYSTEM <<<
Thanks for visiting BravestarrCards.com: Card Collecting and TTM Autographs.