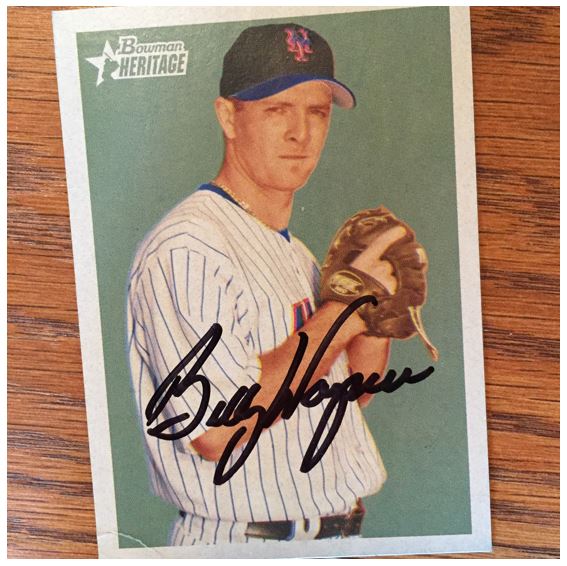 TTM Stats
Sent: 9/14/17 | Received: 11/3/17 | 49 Days
'06 Bowman Heritage
Address: Home
The Story of the Autograph
Billy Wagner was a closer for the Astros, Phillies, Mets, Red Sox and Braves over 16 years. He's probably best known as an Astro, but since I'm a Mets fan I remember the years he spent in New York best.
Wagner had some truly amazing seasons and his career numbers are right up there with the best relievers ever. He's on of only six Major Leaguers to get to 400+ saves in his career. He did this with a 2.31 career ERA and just shy of 1200 Ks (1196). He made the All-Star team seven times and was the Rolaids Relief Man in 1999.
With the Mets in 2006 he reached his 300th save while getting to 40 for the season. While he had a great regular season and helped the team to its first division championship in 18 years he had a terrible postseason and allowed more runs than innings pitched. In 2007 he had a great first half and made the All-Star team, but the second half fell apart a bit and he only converted 13 of 17 chances with a 3.90 ERA. By no means was it Wagner's fault alone, but the Mets collapsed late in the season. The Phillies swept them late in the season and that was the difference in the division race that year.
2008 saw Wagner breakdown a bit with a tirade against his teammates. He had another good first half and made the All-Star team again. Later in the year he tore a ligament in his elbow and he needed Tommy John surgery. While this was really the end of his Mets career (as he even said), he was pitch again towards the end of 2009. But that was his last time as a Met.
The Score on Billy Wagner – 9.0


I've never gotten a TTM from Billy so this is great. I've always loved seeing his signature so I was hoping for this one to come back to add to the collection. I saw a recent signature in blue and it looked great on the card that it was on, but this one with black is perfect to me. He gets the perfect size for the card and the signature is really clean. Billy has one of those signatures that has some fancy elements, but you can understand it. And on top of all that, the Bowman Heritage card really makes this work. Without any name or anything else on the front if give the player the maximum amount of room to sign.
I can't tell you how happy I am to get this one back and it's one of my favorites of the year so far. Thanks Mr. Wagner – 9!
>>> READ MORE ABOUT MY AUTOGRAPH SCORING SYSTEM <<<
Thanks for visiting BravestarrCards.com: Card Collecting and TTM Autographs.