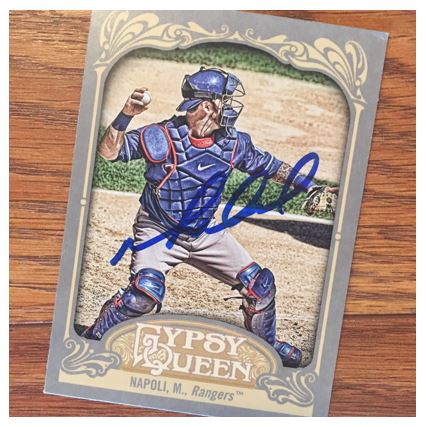 TTM Stats
Sent: 8/4/17 | Received: 9/21/17 | 47 Days
'12 Topps Gypsy Queen (returned '17 Topps unsigned)
Address: Texas Rangers
The Story of the Autograph
Mike Napoli is currently with the Texas Rangers and its his third stint with them. I'm not sure I've seen that on a TTM return in a while. There can't be many guys who have made a third trip back to a team. Mike's also played for the Angels, Red Sox, and Indians. As you can see he's an American League guy. He plays first base, catcher and DH, which is really why he works best for the AL teams. He made the All-Star team while with the Rangers in 2012 and won the World Series as part of the Red Sox in 2013.
Mike debuted in 2006 with the Angels and in his first game he jacked a digger off of Justin Verlander. Not too shabby! And for the rest of his career he's definitely been a candidate for the long ball each time he gets up to the plate. At the same time, he has been a bit injury prone through his career. When he is on though he is pretty good (although no generally his average). What I like is that in his best year, he really helped his clubs out:
2011 – Rangers reached the WS: .320 Avg., 30 HRs, 75 RBI
2013 – Red Sox won the WS: .259 Avg., 23 HRs, 92 RBI
2016 – Cleveland reached the WS: .239 Avg., 34 HRs, 101 RBI
He's made the postseason other years, but he played particularly well in those years. I mean those are his three highest RBI years, his top two HR years (although this year is edging one out), and his highest average year.
Mike made his mark in the postseason, especially 2011 which was an awesome series between the Rangers and Cardinals. He hit 3 HRs and batted in 15 including 10 in the World Series and hit well over .300 in the postseason. In 2016 he made his mark by homering for his fourth different team in the postseason, something done by only 5 others.
On the lighter side of things, one of the fans last year in Cleveland start a "Party at Napoli's" thing. He created a shirt and gave it to Napoli. Mike wore it in a postgame interview and then everyone wanted it. Sales of the shirt raised money for the Cleveland Clinic Children's Hospital. It looks like that's continued to Texas.
The Score on Mike Napoli – 4.0


I've gotten a few signatures from Mr. Napoli in the past. This one maybe looks a bit quicker than ones he's done in the past. But hey, he is a popular TTM guy because we know we'll get it back. So he's got a lot of signing keeping him busy. This is the first time I've only gotten one signed back. Maybe that it was that he was particularly busy with signing that he cuts it to one, or maybe he didn't think the card was good for a signature (it was pretty dark). Anyway that was the first time that happened with him for me.
Gypsy Queens take a great autograph as do most flat or matte finish cards. A nice blue marker like the one Mike used works great. But this round I it's a little bit lower than what I might have given in the past. I'm giving this return a 4.
>>> READ MORE ABOUT MY AUTOGRAPH SCORING SYSTEM <<<
Thanks for visiting BravestarrCards.com: Card Collecting and TTM Autographs.