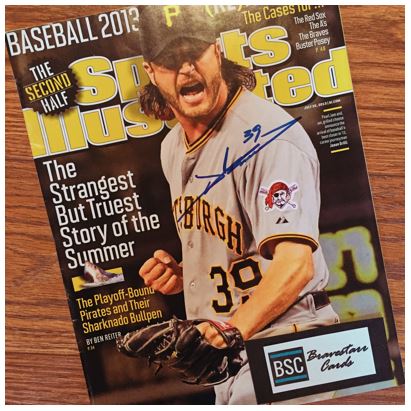 TTM Stats
Sent:  1/30/17     |     Received:  2/22/17     |     (22 Days)
Sports Illustrated 7/22/13
Address:  Blue Jays Spring Training
The Story of the Autograph
This is a great Spring Training signing which is about the only way I really get Blue Jays autos. The magazine is from one of Jason's best years, 2013. After being a career journeyman, he made his first All-Star game that year at the age of 36 and he was one his way to having a great season. That is until he made this cover. On the date of this cover he injured his forearm and was on the DL until September. He still helped the team to the 2013 playoffs and 2011-2013 remain some of his strongest years, all with the Pirates.
The Score of Jason Grilli – 7.5


I love a signature with a player's number and that will definitely earn this one some points. This one definitely goes into the unique category for a signature, and while it would be hard to determine that it says his name, it's unique enough to pick it out from a group. A black sharpie would have been great to go with the Pirates colors but I think the blue sticks out pretty well. Jason also signed this in a great spot.
I think this is a strong 7.5.
>>> READ MORE ABOUT MY AUTOGRAPH SCORING SYSTEM <<<
Thanks for visiting BravestarrCards.com: Card Collecting and TTM Autographs.